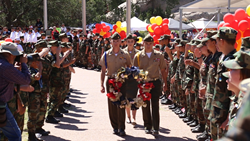 Just being around these special veterans made us feel as though we were able to take a step back in time. The Young Marines are assuring the legacy of these very special veterans. They will not be forgotten.
Washington D.C. (PRWEB) August 24, 2016
Close to 200 Young Marines representing 24 units, ten states and all six divisions traveled to Window Rock, Arizona, to be part of Navajo Code Talkers Day on Sunday, Aug. 14, 2016.
"This is an event that the Young Marines and the Navajo Code Talkers look forward to every year," said Brenda McNulty, Young Marines event coordinator. "Our partnership between the descendants of the Navajo Code Talkers and the Young Marines has strengthened year after year since 2006. It is a collaborative effort in which both parties create a successful event for everyone to enjoy."
The Young Marines participated for three days - Aug. 12, 13 and 14 - acting as escorts for veterans among many other duties. Every year since 2006, Young Marines from across the country gather in Window Rock, AZ, to honor and give praise to veterans and to the Navajo Code Talkers from WWII. The Navajo Nation has a large population of veterans of all branches.
"Just being around these special veterans made us feel as though we were able to take a step back in time," said Bill Davis, national executive director and CEO of the Young Marines. "The Young Marines are assuring the legacy of these very special veterans. They will not be forgotten."
Events that took place:

Friday, Aug. 12: Community service in Window Rock and the 300 Club event (300 pushups in 30 minutes).
Saturday, Aug. 13: Generations of Honor 5K Run/Walk, Indian Market, viewing of a museum documentary, and appreciation dinner
Sunday, Aug. 14: the official Navajo Code Talkers Day - parade, ceremony, celebratory luncheon
The Young Marines is a drug demand reduction program. It partnered with MADD for the 5K event. More than 50 people from MADD ran and walked alongside of the Young Marines in a memorial walk to honor a family member who was killed by a drunk driver.
"There were more than 50 local participants in the 5K race as well as the Young Marines and virtual runners from all over the world," Davis said. "The island of Diego Garcia, Afghanistan; and Japan virtual participants took to the roads in an effort to celebrate the Generations of Honor."
The Navajo Nation Veteran's Memorial Park is significant, because it was designed and built by the Navajo. It is their "living" Veterans' Memorial. The idea for the memorial evolved from a group of Native Vietnam Veterans, Navajo Code Talkers and culturally important, Navajo medicine men.
The park has many symbolic structures: a circular path outlining the four cardinal directions and 16 angled steel pillars with the names of war veterans. In addition, there is a healing sanctuary that is used for reflection and solitude, and it features a fountain made of sandstone.
According to Brenda McNulty, it's rare to meet people who have had such an impact on others' lives. The men are more than just WWII heroes. The Navajo Code Talkers are more regarded in the Young Marine's eyes than any sports star or celebrity.
"The Young Marines understand them, the Young Marines appreciate them and the Young Marines learn from them," McNulty said.
For a decade the Young Marines have paid honor to these amazing men. More than 1,200 Young Marines have experienced the story of the Navajo Code Talkers. The Young Marines are asked to share that message with their history classes which means that thousands of people who might not have otherwise known about the Young Marines have been touched by their participation.
Top secret
During the early months of WWII, Japanese intelligence experts broke every code the U.S. forces devised. They were able to anticipate American actions at an alarming rate. With plenty of fluent English speakers at their disposal, they sabotaged messages and issued false commands in order to ambush Allied troops.
To combat this, increasingly complex codes were initiated. At Guadalcanal, military leaders complained that sending and receiving these codes required hours of encryption and decryption—up to two and a half hours for a single message. They rightly argued the military needed a better way to communicate.
World War I veteran Philip Johnston suggested that the U.S. military develop a code based on the Navajo language which was unwritten. The son of a missionary to the Navajos, Johnston was one of the few non-Navajos who spoke their language fluently.
Johnston had been brought up on a Navajo reservation, and he knew that many Navajo words have different meanings depending on context. Once he demonstrated to the Marine Corps how effective a Navajo-based code would be in thwarting intelligence breaches, the Marines set out to sign up Navajos as radio operators.
In 1942, 29 Navajos ranging in age from 15 to 35, created the first U.S. military code based on their indigenous language. It started with a vocabulary of 200 terms but tripled in quantity by the time World War II ended. The Navajo code talkers could pass messages in as little as 20 seconds.
The code was so complex that not even native Navajo speakers could comprehend it. The code also proved unique, because the Navajo soldiers weren't allowed to write it down once they were on frontlines of the war. Everything was memorized.
During the first two days of the Battle of Iwo Jima, the code talkers transmitted 800 messages with no mistakes. Their efforts played a key role in the U.S. emerging victoriously from the Battle of Iwo Jima as well as the battles of Guadalcanal, Tarawa, Saipan and Okinawa.
In 1942, there were about 50,000 Navajo tribe members. As of 1945, 540 Navajos served as Marines, 420 as code talkers. The Navajo soldiers' unbreakable code saved thousands of lives and helped end WWII.
The Navajo Code Talkers may have been World War II heroes, but the public didn't realize it, because the code remained a top military secret for decades following the war.
The Navajo Code Talkers' contributions to the U.S. military during World War II became better known with the release of the 2002 movie, "Windtalkers," starring Nicolas Cage. Although the movie received mixed reviews, it exposed the public to World War II's Native American heroes.
Private donations and corporate sponsorships are being sought for the National Navajo Code Talkers Museum and Veterans' Center. For more information, visit: http://www.navajocodetalkers.org/donate_and_support/
About the Young Marines
The Young Marines is a national non-profit 501c(3) youth education and service program for boys and girls, age eight through the completion of high school. The Young Marines promotes the mental, moral and physical development of its members. The program focuses on teaching the values of leadership, teamwork and self-discipline, so its members can live and promote a healthy, drug-free lifestyle.
Since the Young Marines' humble beginnings in 1959 with one unit and a handful of boys, the organization has grown to 281 units with 9,600 youth and 2,400 adult volunteers in 40 states, the District of Columbia and Okinawa with affiliates in other countries.
For more information, visit the official website at: http://www.YoungMarines.com.