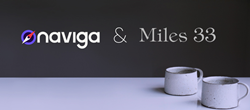 BLOOMINGTON, Minn. (PRWEB) March 03, 2021
Naviga Inc., a leading provider of software and services powering media-rich industries, today announced it has acquired Miles 33, a United Kingdom headquartered supplier of software to media, corporate and agency customers in 29 countries.
"We're excited to welcome Miles 33 and its customers to the Naviga family," said CEO of Naviga, Scott Roessler. "Miles 33's patented technology combined with Naviga's Content Engagement Platform will further advance the capabilities available to publishing teams operating in today's complex environment and allow those teams to use a single and unified platform to drive audience engagement, advertising sales, content management and digital media commerce."
This acquisition expands Naviga's global presence in the United Kingdom, Benelux, Italy, and the Asia Pacific region. The combined business will deliver enhanced product offerings, extended service capabilities, and broadened technical and global publishing expertise.
"Naviga and Miles 33 believe deeply that together the businesses will better serve customers by delivering more comprehensive and innovative software solutions," said Michael Moore, CEO, Miles 33. "We are looking forward to joining the Naviga team and to continuing our mission of helping customers grow advertising and subscription revenue while streamlining traditional publishing workflows."
Naviga continues to expand the capabilities of its Content Engagement Platform and its presence within the global market. This acquisition furthers Naviga's goal of delivering innovative software that enables media companies to accelerate their digital transformation journey. With market leading, modern solutions for content management, audience engagement, advertising sales and digital media commerce, Naviga's Content Engagement Platform continues to drive all critical facets of the content journey for global media.
Supporting Resources
https://www.miles33.com/
About Naviga
Naviga (https://navigaglobal.com) is the leading provider of software and services powering media-rich industries. Our Content Engagement Platform (CEP) helps companies create, enrich, deliver and monetize content to manage engagements from end-to-end. Our solutions are easy to use, scalable and agile. Combining our experience in media with a dedication to digital, we've developed software solutions that help any content-driven business meet the demands of the future of information. With headquarters in Bloomington, MN and regional offices throughout the world, Naviga is a trusted partner serving over 3,200 news media, broadcast, magazine, financial services and corporate clients in 45 countries.