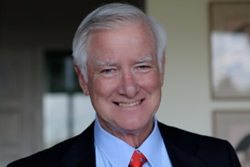 The lessons in the Oblique Divorce Strategies are useful at any point on the journey and encourage a positive life transition.
Santa Barbara, California (PRWEB) December 16, 2015
Navigate Divorce Guide begins publication of unorthodox and unconventional lessons learned from thirty-two years as a divorce lawyer.
In earlier publications attorney, author, teacher and blogger Brian Burke confronts two of the darkest aspects of divorce:
(1) The corruption of conventional family law practice, and,
(2) the dark secret of the "Toxic Divorce."
While "Toxic Divorce" characterizes less than five percent of the divorcing population, it ultimately demands the most attention by legislatures, courts, media and gossip. It is extremely useful to discover that one's divorce is not toxic and that none of the expectations that go along with toxicity are reasonable. To do this, Burke created a free, twenty-question Toxic Divorce Inventory that predicts the probability that a given divorce is toxic.
According to Burke, divorce is one of life's defining experiences. All divorces become, at times, stuck. It's part of the normal process and each sticking point represents an opportunity for new insight and personal growth.
After learning that one's divorce is not toxic, Burke's Oblique Divorce Strategies are intended to serve as vehicles for getting one's mind to think (or drift) laterally. In other words, the Strategies are catalysts for creative thought.
Oblique Divorce Strategies can help the divorcee navigate under, over, around or through whatever it is that is causing them to be stuck in their own process. The complete deck of 54 strategy cards will be released at intervals over the upcoming year. Click here to subscribe to the blog and never miss an Oblique Strategy.
About Navigate Divorce Guide and Brian Burke: The divorce resource website at Navigate Divorce Guide is the culmination of Attorney Brian H Burke's 40+ years of experience in the field of law. He has been certified by the California Board of Legal Specialization as a Family Law Specialist for 32 years and has witnessed innumerable divorces in that time.