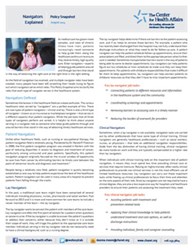 Cleveland, Ohio (PRWEB) September 20, 2013
As medical care has grown more complex, and rates of chronic illness have risen, patients increasingly need someone to help guide them along the healthcare continuum to ensure they receive timely, high-quality care. Enter navigators – experts at helping guide patients around and through barriers that stand in the way of obtaining the right care at the right time in the right setting.
As the field of navigation has evolved, and multiple navigator roles have been created, many people have been left scratching their heads trying to figure out which navigators serve which roles. There are two types of patient navigators – clinical and lay. There is also a third type of navigator – known as an insurance or marketplace navigator – that serves in a different capacity than patient navigators. August's Policy Snapshot, Navigators Explained, clarifies the various navigator roles and how they all play an important part in the healthcare system.
A full list of The Center's publications can be found on their website along with a wide range of resources covering a variety of health policy issues.
---
The Center for Health Affairs is the leading advocate for Northeast Ohio hospitals, serving those organizations and others through a variety of advocacy and business management services. The Center also works to inform the public about issues that affect the delivery of health care. Formed by a visionary group of hospital leaders 96 years ago, The Center continues to operate on the principle that by working together hospitals can ensure the availability and accessibility of health care services. For more on The Center, go to http://www.chanet.org.