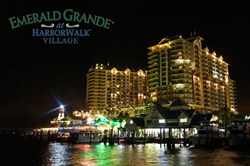 In the past year we lost 510 room nights to Wyndham, but still made 105% of the previous year's revenue. We could not have done this without NAVIS.
(PRWEB) August 05, 2013
Emerald Grande at HarborWalk Village is a Gulf front destination in Destin, Florida, but it is not your average beach resort. Emerald Grande is a luxury condominium hotel with an inventory of mostly three or four bedroom units that delivers a $500 in-season ADR. Its multiple room types, amenities, and high nightly rate add up to a complex leisure reservation sales process. To maximize the resort's high revenue potential, Chief Operating Officer, Bruce Craul took action two years ago to develop a world class sales team for his world class property.
Voice: the high-revenue booking channel
"Our reservation staff is great, but I am always looking for ways to improve processes and increase revenue," Craul said. "Like most high-value leisure properties, voice is our major booking channel. Guests check us out online, but they call the property to finalize a booking decision for a $3,500 vacation at Emerald Grande. We get lots of inquiries. It was clear that if our reservation team could convert more calls, it would make a big difference on the bottom line." Craul selected NAVIS, a reservation sales system company, to implement its comprehensive sales optimization program.
Reservation sales training boosts Emerald Grande's revenue 10% - 20%
"NAVIS specializes in phone reservation sales optimization," Craul said. "They trained our reservation managers in professional sales skills, installed phone system technology that displays caller demographics and provides call recording, created an out-bound call program, and they monitor our monthly conversion scores to track performance. Each agent owns their account and is incented to close the business. The program was comprehensive – and effective. We have a 10% - 20% revenue improvement with their sales processes depending on the time of year."
The Navis System records all calls between the Emerald Grande's reservations staff and the callers. Management reviews each one to refine sales ability and improve conversion rate scores. "This is the most sophisticated reservation optimization process in the industry," Craul said. "Our team developed the skill to close more than 35% of all inbound calls. We would convert even more business, but often we don't have the availability and have to issue a regret." Craul said the NAVIS' sales reporting lets him know more about what is going on with his business to make decisions based on solid information.
105% revenue growth with fewer rooms
The resort turned over 17 units to Wyndham Vacation Club in 2012, but Emerald Grande increased its revenue despite the smaller inventory. "In the past year we lost 510 room nights to Wyndham, but still made 105% of the previous year's revenue. We could not have done this without NAVIS."
Emerald Grande also initiated a highly effective outbound call program to follow up on reservation inquiries. Craul said, "When someone calls for information, NAVIS' system displays the caller's phone number and other information. Their team trained us in out-bound lead follow up and the caller information creates a data-rich lead to develop. Our outbound calls generate a huge amount of revenue simply by following up on inquiries that did not commit on their first call."
Craul explained that staff training was an integral part of the NAVIS system at Emerald Grande and that his team took the sales classes to heart. "I watched our reservations people become sales professionals, real closers. NAVIS showed our team how to build a relationship with each caller and make them want to come here. They ask questions about the caller's family and their favorite activities, and match our offering with what is valuable to them. On the technology side, NAVIS provided our reservations agents with a second screen on their desk that displays each caller's location, demographics, socio economic profile, and phone number. This helps us know our callers better, provide better service, and it sets the stage for our outbound sales effort."
"We are a luxury leisure resort and voice channel continues to be the primary revenue source," said Craul. "Our decision to invest in a program to make our call center processes more sales-focused and our reservation team more professional was a good one. The ROI on this decision was very fast." Click here to learn more about NAVIS' reservations sales system.
About NAVIS
NAVIS is a reservation sales system company that increases leisure voice booking conversions and bottom-line leisure revenue for resort, hotel, and vacation rental companies. NAVIS provides a proven system that enables clients to build reservation sales and marketing decisions on accurate, real-time data. The NAVIS system uncovers previously hidden revenue sources. It provides operators with 100% of the revenue source picture, not just online and social media bookings. It implements powerful outbound leisure sales strategies and measures true marketing ROI for each online and offline campaign. NAVIS captures guest and prospect data, tracks key revenue metrics, and provides 24/7 reservation call center services to help operators increase occupancy, ADR, and close more leisure business.
About Emerald Grande and HarborWalk Village
Emerald Grande features exquisitely furnished luxury residences with classic architecture that blends harmoniously with the harbor front setting. All rooms have balconies with panoramic views of the emerald coast. With four different Condo-Hotel categories to accommodate families of all sizes, guests enjoy luxurious hotel accommodations that include custom-crafted furnishings and lavish baths, with a level of service that sets the standard for all other family resorts. Residences also have fully equipped kitchens with granite countertops, living area, private balcony and views of Destin. Contact (800) 676-0091 for information or go to http://www.emeraldgrande.com