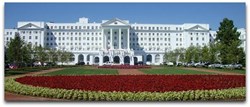 With NAVIS' help we increased reservation revenue 100%, boosted our ADR, and produced a million dollars in outbound call revenue.
(PRWEB) November 19, 2013
The Greenbrier is an award-winning resort with a fabled past and a great future. It opened its doors in 1778 as America's first resort. Since then, The Greenbrier hosted six sitting presidents and acted as a hospital during the War Between the States and World War II. It also houses the secret congressional bomb shelter built during the Cold War. Today the luxury destination is home to four championship golf courses, a beautiful casino, and the best reservation team in hospitality.
"We have a very select guest mix that takes their visit to The Greenbrier seriously. Most guests stay several days to enjoy our wide choice of activities," said Nancy L. Tuckwiller, The Greenbrier's director of reservations. "Eighty percent of our reservations come through our voice call center. This time last year we took 2,500 calls in one week. During the most recent week we took 4,000. That is a 60% call increase, and we are converting more calls than before." Tuckwiller oversees a team of 25 call center agents that increased The Greenbrier's reservation revenue by 100% in the past year.
The Greenbrier is a 700+ room full-service destination that spreads across 10,000 acres in West Virginia. It offers 55 activities that include golf, sporting clays, white water rafting, indoor and outdoor tennis, and an award-winning mineral Spa. "When our new owner, Mr. Jim Justice, acquired our property from the CSX Corporation in 2009, the staff made a commitment to make it successful," said Tuckwiller. "As part of that goal, we implemented a reservation sales system from NAVIS to improve conversions and revenue, and track the ROI on our marketing campaigns. With NAVIS' help we increased reservation revenue 100%, boosted our ADR, and produced a million dollars in outbound call revenue." Click here to learn more about NAVIS' reservation sales system.
NAVIS assigns a unique toll-free number to each marketing campaign. When people call the reservation office on a campaign's number, the system tracks the campaign's success. "With reservations and revenue accurately assigned to each campaign, we know which marketing programs to continue and which to end," Tuckwiller said. "This lets us create more profitable marketing strategies that boost revenue."
When calls reach the reservation office, a NAVIS screen on each agent's desk displays which campaign stimulated the inquiry. The system also shows the caller's phone number and demographic profile. Repeat callers trigger the system to display who the caller spoke with and when, and all Greenbrier past-stay information. "Our agents relate personally and professionally to callers and have higher conversions because they know what the caller is inquiring about before they answer the phone," said Tuckwiller. "The system directs inbound calls to the agent who last spoke with the caller, if that agent is available. Our entire conversion process is fast and efficient." If the call is for information about a future date, The Greenbrier's staff sets a 'call-back' reminder in the system.
The Greenbrier also launched an outbound call follow-up program that improved service and revenue. "Callers want to talk to an agent. When the lines are busy, we give callers the option to leave a message, but they may simply hang up to call back later," Tuckwiller said. "NAVIS' system monitors inbound calls and provides valuable caller source information that includes the caller's number. Every 30 minutes we proactively return calls to the people who did not leave messages. Last year our outbound call program generated one million dollars in new revenue. And our guests value the personal attention when we call them back."
The reservation system tracks agent performance and routes more calls to the best agents. "Turn and burn agents take lots of calls, but may not convert as many," said Tuckwiller. "NAVIS sends calls to the top agents, which increases conversions and revenue."
Tuckwiller said The Greenbrier is on a month-to-month contract with NAVIS. "The system continues to make a huge difference in our revenue. There is no risk and NAVIS' client advocates are on calls with us every week to help."
About The Greenbrier
Located in White Sulphur Springs in the Allegheny Mountains of West Virginia, the resort's undulating landscape includes: four golf courses (including the exclusive Greenbrier Sporting Club's private course); a championship indoor and outdoor tennis facility (including five outdoor clay courts and five indoor courts); The Greenbrier Clinic (specializing in executive health); a 40,000-square-foot spa; a mélange of sporting activities; shops; private homes at The Greenbrier Sporting Club; a guests-only casino; and, at its heart, a vast and imposing grand hotel. The Greenbrier recently underwent a $250+ million restoration. The resort is home to The Greenbrier Classic, a PGA TOUR FedEx Cup event, and will soon launch The Greenbrier Medical Institute, a state-of-the-art medical complex on the resort's grounds. See more at: http://www.greenbrier.com.
About NAVIS
NAVIS is a reservation sales and marketing systems company that increases leisure voice booking conversions and bottom-line leisure revenue for resort, hotel, and vacation rental companies. NAVIS provides a proven system that enables clients to build reservation sales and marketing decisions on accurate, real-time data. The NAVIS system uncovers previously hidden revenue sources. It provides operators with 100% of the revenue source picture, not just online and social media bookings. It implements powerful outbound leisure sales strategies and measures true marketing ROI for each online and offline campaign. NAVIS captures guest and prospect data, tracks key revenue metrics, and provides 24/7 reservation call center services to help operators increase occupancy and ADR, and close more leisure business.