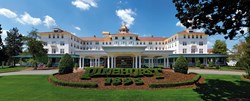 Our goal is to provide a world-class resort experience regardless of which course is available. This is where NAVIS' professional sales coaching and Narrowcast call center database technology paid off.
(PRWEB) December 12, 2013
In 2014, Pinehurst has the honor of hosting back-to-back U.S. Men's Open and U.S. Women's Open Golf Championships. This marks the first time in history that both tournaments will be played on the same course in the same year. But top PGA golfers have nothing on the championship scores turned in by Pinehurst's reservation team in 2013.
In the past 12 months, Pinehurst Resort's call center team increased reservations 18%, improved conversions nearly 10%, and generated a 500% increase in outbound reservation revenue. How did they do it? "Under the leadership of Kellie Slade, our director of social sales, we transformed our call center team from order takers into high-performance sales people," said Jack Bickart, vice president of sales for Pinehurst Resort. "In 2012, we took a hard look at our numbers and decided we could do better. We spoke to leading resorts with great sales teams and found many of them worked with a company called NAVIS. We did our research and implemented NAVIS' sales and marketing systems later that year. Today, we leverage NAVIS to improve sales skills, track call center performance, and apply new phone system technology." Bickart noted that 80% of Pinehurst's reservations come through its call center. Click here to learn more about NAVIS' reservation sales system.
NAVIS delivers a world-class resort experience
Pinehurst Resort in North Carolina has 437 rooms and is known for its eight world-renowned golf courses. Its fabled Number 2 course is regarded by many professionals as one of the best in the world. Both the Men's and Women's 2014 U.S. Open Championships will be played on Number 2. "We are a championship golf resort that features golf and spa packages," Bickart said. "Our 17 reservation agents work hard to give guests the vacation they expect at Pinehurst. Most visitors want to play Number 2 or our seven other championship courses. Our goal is to provide a world-class resort experience regardless of which course is available. This is where NAVIS' professional sales coaching and Narrowcast call center database technology paid off."
NAVIS measured call center performance, then collected and leveraged caller data for agent information. Pinehurst tapped NAVIS' database to instantly provide agents with knowledge of each caller. Incoming caller information includes the call's origin, the promotion that prompted the call, and prior caller interaction. NAVIS also created a new level of reservation management for Pinehurst's social/leisure sales team focused on improving revenue.
"NAVIS' system and practices increased our number"
"We embraced the NAVIS system and practices across our management levels and they increased our numbers," Slade said. "Our entire team is invested in NAVIS' sales processes and tools." Pinehurst also evaluated its outbound sales-call revenue. "Prior to NAVIS we did less than $100,000 annually. In 2012 our agents delivered a large increase. This year we expect more than $800,000 in revenue related to outbound sales calls."
NAVIS created a training framework that enabled Pinehurst's management to provide monthly sales coaching sessions to agents. "NAVIS trained our managers in sales coaching and set up recording systems so we can review all reservation calls," Bickart said. "Each call's outcome is linked to revenue that measures agent performance. Guests are winners because our agents are trained in professional communication skills and property knowledge. And our conversions are up nearly 10%."
Slade uses NAVIS agent productivity reports and call recordings to evaluate her new-hires. "We have a new agent just out of training. I watched her conversion numbers and recently listened to several of her calls. It is clear we made a good hire decision."
NAVIS measures the ROI for each marketing campaign
Pinehurst also uses NAVIS to measure the success of its marketing campaigns. "We watch conversion scores because they track marketing program revenue," Bickart said. "NAVIS creates a unique toll-free number for each campaign and tracks all revenue it generates. This gives us an ROI for each marketing dollar. Today we invest our marketing budget in the most valuable and effective messaging and channels."
Bickart also measures the ROI on Pinehurst's NAVIS investment. "Pinehurst wanted to confirm it made a good decision to use NAVIS. We are very satisfied. It took approximately six months to get up to speed with all aspects of our training. We enjoyed steady revenue improvement since we acclimated to the NAVIS processes."
About Pinehurst
Located in the North Carolina heartland, Pinehurst Resort & Country Club, established in 1895, is a 2,000-acre property featuring an award-winning spa, 8 golf courses, tennis, and activities for the family. Widely known as the cradle of American golf, Pinehurst has hosted more single golf championships than any other site in America, including the U.S. Open, PGA Championship, Ryder Cup Matches, TOUR Championship, and many others. It will serve as the site of both the U.S. Open and U.S. Women's Open Championships in 2014 in back-to-back weeks. See pinehurst.com or call 800-487-4653 for a complete list of events and activities.
About NAVIS
NAVIS is a reservation sales and marketing systems company that increases leisure voice booking conversions and bottom-line leisure revenue for resort, hotel, and vacation rental companies. NAVIS provides a proven system that enables clients to build reservation sales and marketing decisions on accurate, real-time data. The NAVIS system uncovers previously hidden revenue sources. It provides operators with 100% of the revenue source picture, not just online and social media bookings. It implements powerful outbound leisure sales strategies and measures true marketing ROI for each online and offline campaign. NAVIS captures guest and prospect data, tracks key revenue metrics, and provides 24/7 reservation call center services to help operators increase occupancy and ADR, and close more leisure business.