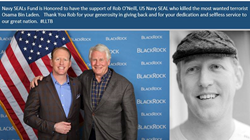 Thank You to Rob for his financial gift, and for his gift of dedication and selfless service to our great nation
Mason, OH (PRWEB) March 17, 2015
Navy SEALs Fund is honored to have the support of Rob O'Neill, the Navy SEAL who killed the most wanted terrorist Osama Bin Laden. We are humbled with the generosity of his $10,000 donation. Rob O'Neill is our Brother, a man whom we respect for his leadership in combat and who is showing what it means to pay it forward, ensuring that no one goes it alone. Rob epitomizes Brotherhood Beyond the Battlefield and lives his life with this focus, dedicated to giving back to his brothers and their families.
The Navy SEALs Fund was founded by Navy SEALs for Navy SEALs and their families, immediate and life changing assistance from the beginning. As a Brotherhood, the Navy SEALs Fund will always help each other… no matter what. Working together as a team, Rob's donation to the Navy SEALs Fund will truly make a significant difference. Please join all of us at the Navy SEALS Fund in a sincere Thank You to Rob for his financial gift, and for his gift of dedication and selfless service to our great nation. #LLTB
The Navy SEALs Fund provides assistance for Active Duty, Reserve, former, retired, Gold Star Families inclusive of wives, children, parents, sisters, and brothers. The Navy SEALs Fund stands at the ready to ease the burdens for Navy SEAL families. All donations made are tax-deductible, but more importantly they are greatly needed and appreciated. Sincere gratitude for our supporters, always.
Go to NavySEALsFund.org
Find Us on Facebook
Follow Us on Twitter