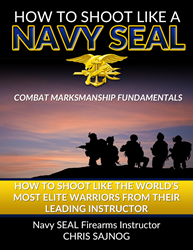 Make America Safe Again.
SAN DIEGO, CALIFORNIA (PRWEB) July 15, 2016
Following every mass shooting the number of firearms sold in the US surges as concerned citizens look for ways to protect themselves and their families. Unfortunately, the number of new gun owners who seek professional training remains shockingly low. Chris Sajnog, the Navy SEAL selected to write their sniper manual is trying to change this. "There's no excuse for this," Chris said recently while discussing ways to address the growing problem. "Your right to buy a gun comes with the responsibility to be properly trained."
According to research conducted by the University of Chicago, approximately 32 percent of the adult population in the U.S. either own a firearm or live in a home with someone who does. There is a critical need for quality training so that firearms may be used safely and with confidence. Leading the movement to provide expert firearms instruction is Chris Sajnog, a retired U.S. Navy SEAL instructor and bestselling author of How to Shoot Like a Navy SEAL. Chris' goal is to teach a million armed citizens and law enforcement officers everything they need to know about using firearms safely and effectively.
Navy SEALs are well known for finding a way to accomplish any mission, and that's exactly what Chief Sajnog is doing here. He's giving away his bestselling book, How to Shoot Like a Navy SEAL, to make professional firearms training accessible and his goal is to train a million people, and to help, as Chris said, "Make America Safe Again."
The book will be given away in Kindle format on Amazon starting July 15th and running through the 19th. Visit the book's page during the promotion to receive a downloadable copy.
About Chris Sajnog
Although he's done taking out terrorists, he's still on a mission: To change the way armed citizens learn to shoot. He spent most of his life training the world's most elite warriors, the US Navy SEALs. One day he came home from a long deployment and realized his two boys needed him more than the Navy SEALs. After 20 years of serving his country, it was time to grow up — and become a father.
Chris, a Master Training Specialist in the Navy, was hand selected to write the US Navy SEAL Sniper Manual. He used this experience, plus four years of studying neuroscience and how the brain works, to develop the New Rules of Marksmanship — a fundamental shift in the way shooting is taught. He's the author of two bestselling books, How to Shoot Like a Navy SEAL and Navy SEAL Shooting.
He's helped thousands of people to learn how to shoot online, and his goal is to train a million and make firearms training safer.