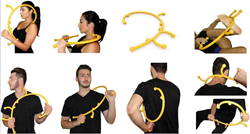 The curve of the massager really helps in getting the hard to reach areas. It is definitely worth getting.
Los Angeles, CA (PRWEB) January 22, 2015
During the recent holiday season, the Nayoya Back Hook Massager sold out incredibly quickly. Around the country, many people wanted to give their friends and family members the popular back massager as a gift, so the product flew off the shelves faster than anticipated. Fortunately, as a company spokesperson for Nayoya Wellness noted, the back hook massager is now back in stock on Amazon and available for purchase.
Anybody who already owns the patented hook shaped shoulder, neck and back massager would probably not be surprised to learn how quickly it sold out in December. The Nayoya back massager is incredibly effective at helping to calm sore and tense muscles, while applying trigger point therapy to various points on the body. Unlike other massagers that are difficult to use solo, the Nayoya Back Hook Massager is easy for people to use on their own, and it is designed for a variety of body shapes and sizes.
As the spokesperson for Nayoya Wellness noted, the back hook massager is used by people from all walks of life; from athletes who might have worked out a bit too hard at the gym and weekend warriors who overdid their run around the neighborhood, to people whose necks and shoulders stiffen up from spending too much time in front of the computer.
"Two of the 9 knobs are strategically placed 2 inches apart to help stimulate and relax tense neck muscles and thigh muscles," the spokesperson said, adding that the innovative tool is usually better than deep tissue massage for myofascial release.
Anybody who would like to learn more about the Nayoya Back Hook Massager may visit the product's Amazon page; there, they can read about the effective tool as well as positive reviews from happy customers.
"This thing is awesome," a pleased customer wrote in a review, adding that the massager is perfect because it can be used just about anywhere.
"The curve of the massager really helps in getting the hard to reach areas. It is definitely worth getting."
About Nayoya Wellness and the Nayoya Back Hook Massager:
At Nayoya Wellness their motto is "Pain Free, Stress Free Living" and that is exactly what they deliver to their customers' doorsteps with quality products that address peoples' daily fitness and wellness needs. Launched over half a decade ago, Nayoya Wellness is currently one of the leading wellness companies in North America specializing in manufacturing and distributing Best-in-Class products for different fitness and wellness needs. For more information, please visit http://www.amazon.com/Manual-Massager-Patent-Pending-Shoulder-Massaging/dp/B00M3IN2MK