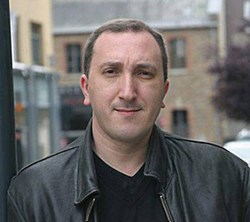 Written with a sharp style, shock value and a lot of humor
New York, NY (PRWEB) November 26, 2013
Following The Bleiberg Project by David Khara—a prizewinning, international bestseller with more than 130,000 copies sold—Le French Book is translating two more thrillers in the Consortium series. The three titles are crammed with action and conspiracy inspired by World War II.
In The Bleiberg Project, Khara explores the consequences of the mad scientific research done by the Nazis and gets readers wondering if Hitler's atrocities are really over. It's an adrenaline-packed race to save the modern world from a wide-reaching conspiracy, written with a sharp style. Library Journal calls it a "quick read to be savored." The Bleiberg Project is currently available in English as an e-book. The print book release is scheduled for spring 2014.
The second title in the series, The Shiro Project, looks at the outrages committed in Asia and the Pacific during the war. When yesterday's enemies become today's best allies, when mankind seems on the verge of repeating the errors of the past, what can a lone man do against the madness that is bound to follow? When his mentor is kidnapped, a Mossad agent teams up with his worst enemy, but first must face himself. He is enlisted against his will in a fight that's not his own and takes him from present day Czech Republic to past Manchuria. He has to put an end to the activities of a mysterious group who have gotten their hands on weapons of mass destruction. The French daily newspaper Le Monde says it leaves readers "out of breath."
The third title, The Morgenstern Project, Jeremy and Jacqueline are back, drawn out of their peaceful life into a race from London to Tel-Aviv, from the Polish forest to Manhattan high-rises, from a shameful past to a threatening future. A single man fights to protect his closest friends from the malediction that follows him relentlessly. He prepares for his final battle.
The trilogy juggles with time and place in a potent mix constructed around flashbacks that allow readers to piece together key events. But chase scenes, gunfights and explosions are only one part of the story. "The main theme of the whole series is resistance and what makes people great," David Khara explains.
Top author
French author David Khara, a former journalist, top-level athlete, and entrepreneur, is a full-time writer. Khara wrote his first novel—a vampire thriller—in 2010, before starting his Consortium thriller series. The first in the series, The Bleiberg Project, was an instant success in France, catapulting Khara into the ranks of France's top thriller writers.
About Le French Book
Le French Book (http://www.lefrenchbook.com) is a New York-based publisher that brings France's best crime fiction, thrillers, novels, short stories, and non-fiction to new readers across the English-speaking world. Its motto is: "If we love it, we'll translate it."
©2013 Le French Book, Inc. All rights reserved. Information is subject to change without notice.