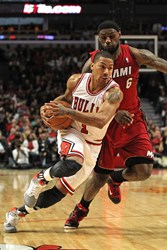 (PRWEB) December 03, 2013
The Chicago Bulls' general manager Gar Forman announced that no major changes or additions will be made to the roster in response to Derrick Rose's recent injury. Rose limped off the court last Friday when playing against the Portland Trail Blazers, and a few days later had surgery for a torn meniscus.
The Chicago Bulls star had just come back to the court this season, after tearing his ACL last year. He came back quickly, in 8 months recovery to find the court again. Almost as soon as he has returned he found himself injured again in what many are calling a freak accident. Luckily, the surgery for his torn meniscus is fairly minor, and will be back playing in no time. He should also come back at 100 percent. This surgery he has undergone is nowhere near ad severe as his first knee surgery last year.
The general manager and team are not ready to let go of Rose, and are not making any rash decisions. It is too early to tell if he will be out for the entire season, and if not, they plan on him coming back at latest for next. Unfortunately, some believe Rose will never return to being the player he was before his ACL tear, not after having two knee surgeries in nineteen months. Only time will tell.
The Bulls will definitely miss the presence of Derrick Rose. Rose was the league's MVP in 2010-2011, and is coined as the team's standout superstar. Chicago is currently second in the central division with a 6-7 record, but have not won a game in their past 4, and Rose was out for two of those games.
Over in Los Angeles, the Lakers are dealing with a loss of their superstar as well. Kobe Bryant has already missed more than seven months due to an Achilles tendon injury, and it does not look like he will be back for another few weeks. Bryant is very thankful, however, that although he is still recovering, his team has enough confidence in him to sign for another two year, $48.5 million deal. That salary makes Bryant the highest paid player in the NBA. For those who would think Lebron James' would be higher, his salary comes in at $19.07 million for 2013.
Speaking of the Miami, James and the Miami Heat are happy to have a player of their own back from minor injury, Dwayne Wade. Wade had sat out a few games in November due to a sore knee, but is back to action on the Miami court. The Heat are dominating the NBA once again, as they are 11-3 so far and stand in 1st place in the Southeast division. Find your Miami Heat tickets at http://www.Ticketmonster.com today.
Ticket Monster is the best spot on the web to find all your NBA tickets to your favorite teams. There is plenty time left in the NBA season before the 2014 NBA Playoffs, which Ticket Monster will also offer tickets to. http://www.Ticketmonster.com has Chicago Bulls tickets, Lakers tickets, and more! So visit the site and enjoy your next NBA experience today!