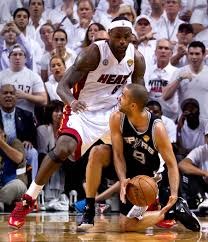 (PRWEB) November 22, 2013
The NBA season is just a few weeks in, but is nonetheless very exciting. Games have included the drama of crazy scores and unexpected winners, freshman have been proving themselves worthy of their draft picks, and some teams are as good as everyone expected them to be, i.e. The Miami Heat. Let's take a deeper look:
Even without Dwayne Wade on the court, the Miami Heat are still holding down first place. The team is 9-3 on the year, and Wade has missed his second game in a row. He has been resting due to soreness in his left knee. In their most recent win, the Heat demolished the Orlando Magic by 28 points. James warned his opponents to stop double teaming him or others will show up, and that is exactly what happened. Heat player James Jones scored 17 points on the night, 14 of which were in the third quarter alone. At one point during the game, all five starters were on the bench, showing just how deep this dream team really is. Who will be the team to slow them down? Purchase your Heat tickets at Ticket Monster to find out!
One team that has been having quite the comeback season is the Philadelphia 76ers, who ended last season with more losses than wins. Rookie Michael Carter Williams had quite the debut for the team, and has quickly become the new face of the 76ers. For the last few games, however, Williams has been out with a bruised foot. But don't worry, everyone's favorite rookie will return to the court soon. The 76ers are in second place in their division, and with Williams back who knows what they can accomplish.
The San Antonio Spurs are off to a great start, per usual. This talented group is 10-1, with their only loss coming to the Trail Blazers, and their win streak is at eight. The Spurs are undefeated at home, and have most recently defeated the Boston Celtics 104-93. Tony Parker has been performing very well, as he scored 19 points over the Celtics. This team is having a fun season, and is enjoying ruining every one else's.
One shocking team this year is the New York Knicks. Although the season is just getting started, the Knicks are so far not proving that they are a top team in the league. This group did great last year, but is currently in fourth place with a 3-8 record. They most recently forced over time with the Indiana Pacers, who only have one loss on the year. This marked the sixth straight loss for the Knicks at home. However, there is hope for this New York team, as the Atlantic division's leaders even have a losing record. To watch the Knicks make their comeback and win their upcoming games, go to http://www.Ticketmonster.com to find your Knicks tickets.
Ticket Monster provides basketball fans with plenty of NBA tickets. http://www.Ticketmonster.com has tickets to all of your favorite team's games, and fans that visit the site can use the active basketball blog, easy read schedule, and social media hub. Ticket Monster is unlike any other ticketing site, as it does not charge service fees. Great tickets at a great price, what can be better!