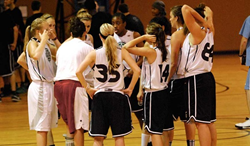 Getting to travel to Australia as part of the NBC travel team was life changing.
San Rafael, CA (PRWEB) December 13, 2016
US Sports Camps' NBC Travel Teams are in the final stages of selection of girls who tried out for the 2017 basketball team to Sydney, Australia. The Travel Team is for girls between the ages of 15-19 and criteria includes both basketball ability and personal character.
Once team members are selected, they will meet together for a private training camp preparing plays, getting to know each other and preparing for international travel. Girls already chosen for the team are coming from Alaska, Montana, Washington and British Columbia. After the training camp, the team of girls and coaches will head to Sydney for competition and sight-seeing. Team members will get the opportunity to hold a live Koala bear, walk in one of the oldest parts of the city, and see some of Australia's National Parks.
"Getting to travel to Australia as part of the NBC travel team was life changing. We played some of the best local competition. One of my favorite memories was watching my new friend score 30 points in a close game. I learned so much from playing with her and working with my coach. Afterward, we ate sandwiches with our new Australian friends. I tried the vegemite sandwich which is definitely a one time experience." says former travel team member Jennifer Crowell.
NBC Basketball Camps are completing the roster for this trip and finalizing the team. Girls who feel they could contribute to the team as a player and as a leader and would like more information can contact travel team director Bonnie Tucker at bonnie(at)nbccamps.com or call at 1800-406-3926x326. Deadline to inquire about this travel team is January 15, 2017.
About NBC Camps
NBC Basketball Camps began in 1971 and have grown to be one of the most popular basketball camp training program in the world. Based on the philosophy of talent building, leadership development, education and basketball excellence, NBC Basketball Camps offers an experience of a lifetime.
For more information about NBC Basketball Camps and their international travel team, visit their website at http://www.nbccamps.com. NBC Basketball Camps are a proud member of the USSC Sports Camps. Selection for 2018 travel teams will open June 2018.
About US Sports Camps
US Sports Camps (USSC), headquartered in San Rafael, California, is America's largest sports camp network and the licensed operator of Nike Sports Camps. Over 80,000 kids attended a US Sports Camp program in 2016. The company has offered summer camps since 1975 with the same mission that defines it today: to shape a lifelong enjoyment of athletics through high quality sports education and skill enhancement.