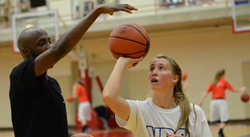 This camp is really about love. We love basketball and we want everyone to play it well, with passion and excellence. We want our campers to feel part of this amazing camp experience,
San Rafael, CA (PRWEB) March 06, 2017
Located right outside of Seattle in Auburn, Washington is a basketball camp program that has been one of the most successful camp operations in the world.
With hundreds of campers attending each year, this unlikely location for basketball camp has grown to attract athletes who love the game. Camp Director Roger Smith, began with NBC Basketball Camps as a camper at the age of 9 when NBC Camps had only one location in Eastern Washington. After coaching and running camps in Eastern Washington, Coach Smith helped open the NBC Auburn location over 25 years ago.
According to NBC Camps Chief Operations Officer, Jennifer Ferch, the Auburn camp is a perfect reflection of the mission and philosophy of NBC Basketball Camps. "We believe in the passion and hard work necessary for becoming a great athlete and leader. The research on talent development is confirming what we have been preaching for a long time. Accurate repetition, intensity, and firm but caring coaches are key ingredients necessary for building talent."
NBC Basketball Camps grew out of the dream of Founder and President Fred Crowell. He wanted to create a camp that didn't focus on the star athlete or superstar coach. Instead, he wanted to focus on the environment, teaching philosophy and expectation of the camp. "I wanted a place where the best player on the team and the least skilled player could come and both get better. I didn't want a camp centered on autograph signing and watching the "pro" demonstrate the drills. I wanted to get campers on the court, moving, sweating, working and dreaming of ways to become better. I want camp to be life changing so that every person who comes feels inspired and motivated to become a better player and a better person. We want our campers to become the kind of people who the coach must have on the team and must have on the court."
NBC Auburn Camps will have five training week sessions starting off with two camps running simultaneously. The first is a Pure Shooting and Offensive Skills camp which videos the shooting of every athlete. Campers work through an intensive shooting curriculum to bring real understanding on how to be a pure shooter. The other camp is a specialty camp called Crowell University for point and post skill mastery. This camp provides guidance on position training and the basketball IQ necessary to be a Division 1 athlete. These camps run June 27-30.
The next training camps are Complete Player Camps which run July 9-13 and July 16-20 for boys and July 23-27 and July 30-August 3 for Girls. These basketball camps focus on total fundamental skill development. The camps are very rigorous and run 7 am until 10 pm at night. Campers should be prepared to play between 6-10 hours of basketball each day including skill training, games, tournaments, competitions and workouts. "If you love basketball enough to work hard, you are going to love NBC Camps," says NBC Director Roger Smith. "This camp is really about love. We love basketball and we want everyone to play it well, with passion and excellence. We want our campers to feel part of this amazing camp experience. We want every coach to treat each camper with love and compassion, to expect and ask for their very best. The same way I would want my kids to be treated…fairly, with great supervision and care, this is how I want camp to be. One of the best places on earth for kids to have an amazing opportunity to become the best they can be."
For more information about NBC Basketball Camps in Auburn, Washington visit their website at http://www.nbccamps.com or call 1-800-406-3926.
About NBC Basketball Camps
NBC Basketball Camps offers intensive basketball training in 6 countries. NBC Camps is a member of US Sports Camps. USSC recognizes NBC Basketball Camps as one of the top basketball camp training programs in the world.