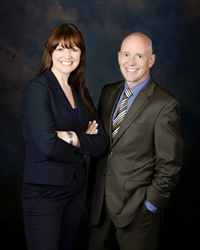 The American Society of Legal Advocates is a nationwide invitation only legal organization that selects less than 1.5% of lawyers nationally
Charlotte, NC (PRWEB) February 05, 2014
Sean McIlveen of North Carolina's McIlveen Family Law Firm was selected by the American Society of Legal Advocates (ASLA) as one of the Top 100 Family Lawyers in the state for 2014. Meanwhile, Angela McIlveen, was selected by the same organization to be among the Top 40 Under 40 Family Lawyers in North Carolina.
The American Society of Legal Advocates is a nationwide invitation only legal organization that selects less than 1.5% of lawyers nationally. ASLA is comprised of select attorneys who possess excellent legal credentials, as well as a firm commitment to both the highest professional standards and community engagement
In determining the individuals to be part of ASLA's Top 40 Lawyers Under 40 and Top 100 Lawyers, a dedicated team carefully and thoroughly researched through tens of thousands of licensed lawyers across the United States based on several criteria. The selections aim to recognize early promise and recognize remarkable legal talent among the next generation of excellent attorneys.
ASLA allows members to create detailed profiles of themselves, and enables them to further enhance their legal practices by providing them the opportunity to market their practice, network, refer clients, discuss revolutionary legal issues, and benefit from sponsored services.
Sean and Angela McIlveen, husband-and-wife family law attorneys, established the reputable McIlveen Family Law Firm in North Carolina with the intention of helping families across the state resolve their legal family matters. These issues include divorce, separation, child custody and support, alimony, adoption, division of property, adoption, wills, estates, grandparents' rights, and domestic violence.
Sean McIlveen graduated from the University of North Carolina-Charlotte, attended Wake Forest University School of Law, and earned his Juris Doctorate from the University of Houston. He is a certified mediator, and the author of two books on child custody. Sean is also a member of the Gaston County Bar Association and the North Carolina Bar Association.
Angela McIlveen graduated from Lenoir Rhyne University, and earned her Juris Doctorate at Case Law School. She is a member of the Gaston County Bar Association, the North Carolina Bar Association, and the American Bar Association. Angela is a Committee Member for the Answer Scholarship, and is also the author of The North Carolina Divorce Guidebook.
The McIlveen Family Law Firm, headed by Sean and Angela McIlveen, is a family-owned legal firm with more than 30 years combined experience in matters pertaining to family law and divorce. The McIlveen Family Law Firm has earned a rock-solid reputation in, Charlotte, Gastonia and throughout North Carolina for its team of highly skilled and knowledgeable attorneys. For a confidential case evaluation or for more details, call (704) 557-0131 or visit http://www.mcilveenfamilylaw.com for more information.