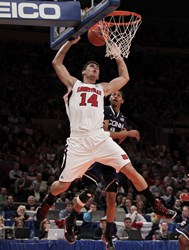 (PRWEB) October 09, 2013
Practices have officially begun. Sprints, drills, and trips to the weight room have already started and are in full swing. Yes, the best time of the year has arrived - NCAA Basketball season.
Preseason: The Rankings
3. Although the Louisville Cardinals defeated the Michigan Wolverines in the Final Four Championship game last season, they are ranked at number three in the preseason poll. Top players like Siva and Dieng are gone from the championship squad, but guard Russ Smith has decided to return for another year.
2. Michigan State. The Spartans lost last year, surprisingly, in the round of sweet 16. However, having star players like Gary Harris and Adreian Payne skip the NBA draft and return for one more season jump this team to number two in the polls.
1. Although they missed the tournament the year after winning the national championship, the Wildcats and coach John Calipari are sitting nice and high in the number one spot. Key returners are coming back to Kentucky to ensure a better season, and with the nation's top players coming in, the team is a sure bet this year.
Fans have a long way to go until the 2014 Final Four, but Ticket Monster has all the details on getting these tickets for when the time comes. The division I basketball championship will be played April 5 & 7, 2014, at the AT&T Stadium in North Texas, or better known as the Dallas Cowboys stadium. Every year, the NCAA holds a lottery that anyone can participate in. There is an application process involved, which is currently open, and will close on May 31. Credit cards will be charged, along with an application fee, and will be refunded if not chosen.
For those who want an easier way to purchase Final Four tickets, Ticket Monster has all the answers. Ticket Monster is a provider of NCAA basketball tickets, from the regular season to the Championship game. Buying tickets is as easy as visiting the site, selecting your seat of choice, and checking out. No application fees, no services fees, no problems.
Ticket Monster is the #1 spot on the web to buy NCAA basketball tickets. http://www.Ticketmonster.com has tickets the hottest games of the year, including games like Kentucky vs North Carolina, Michigan State vs Indiana, and Syracuse vs Duke. The NCAA tournament is one of the most exciting weeks in college sports, don't miss out on all the fun! Remember to fill out your bracket before the tournament begins, and use sites like ESPN to compete and win! Purchase your tickets in advance at http://www.Ticketmonster.com, and stay updated with all college basketball news and events.