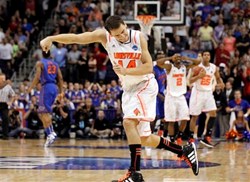 (PRWEB) October 29, 2013
The 2013-2014 college basketball season officially kicks off in the first week of November. Obviously conference games are very important, especially in conferences such as the ACC, the Big East, and Big Ten, but non-conference games in basketball can be just as huge. Some of the top matchups will not come as a surprise, but they are nevertheless just as exciting every season. Let's take a quick look into the season's most exciting games.
1. Kentucky vs. Louisville: This game will take place on December 28th, and is with out a doubt one that most college basketball fans will be looking forward to. Louisville won the championship last year, and although Kentucky did not make the tournament, shockingly, they have one of the best recruiting classes in the nation. Purchase your tickets ahead of time to experience the madness!
2. Kentucky vs. Michigan State: Yes, Kentucky again. As one of the powerhouses in college basketball, they are bound to be included in many a top game. Six of Kentucky's recruiting players were in the top 25 spots of the 100. Michigan State does not have one recruit from the top 100, but is bringing back 4 starters, and that's really all you need. This matchup occurs quickly before conference play, so buy tickets soon for the November 12th excitement.
3. Duke vs. Kansas: This game will include competition between two of the most hyped up freshman in college football. Jabari Parker on Duke will face Andrew Wiggins of Kansas. One would be crazy to not watch these two in the college setting while you can, as Wiggins is expected to be the top prospect in the NBA draft. Two top freshman playing on two top ten teams, what could be better?
4. North Carolina vs. Duke: Coined as one of the most intense rivalries in college athletics, every time these two teams face off there is drama. Both are in the ACC, both want a championship. The two together combine for eight national championships in about thirty years, and they keep coming back for more. The Blue Devils and Tar Heels will meet twice in conference play this season, the first on February 12th and the second on March 8th. Find your tickets today, they will be selling fast!
5. Western Kentucky vs. Wichita State: The Wichita State Shockers will be coming into this season after making it to the final four last year. Western Kentucky lost in the first round, but they are still a solid team. Wichita's best player is a senior, and has decided to come back for another season, although they will be moving on without stars Carl Hall and Malcolm Armstead. Tickets to this top matchup will be available at Ticket Monster up until the game!
Ticket Monster has tickets to college basketball games throughout the 2013-2014 season. Finding tickets is as easy as visiting the site, finding the game or games you want to see, then purchasing your tickets! While there, fans can enjoy reading the active blog, use an easy read schedule, and interact with other fans through the social media hub. NCAA college basketball tickets are hot this year and will be selling fast, so make sure to buy them today! Visit http://www.Ticketmonster.com or call 866-217-4777 for tickets or more detail.