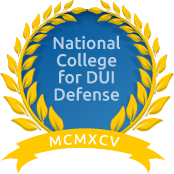 We invite everyone to take a look, make Board Certification part of your professional development plan and apply now at NCDD Board Certification.
Montgomery, AL (PRWEB) March 17, 2017
Recently, another DUI Defense organization has advertised a "Board Certification" exam in the area of DUI Defense to be held in April. While NCDD Board Certification is often imitated, it is never duplicated.
The National College for DUI Defense is the original, the one and only DUI Defense organization to offer Board Certification that meets American Bar Association standards for accreditation.
The American Bar Association has accredited the National College for DUI Defense, Inc. to confer Board Certification on those who meet the requirements and pass the examination. The NCDD DUI Board Certification is the first and only group to win accreditation by the ABA in the DUI Defense area—and that did not come easy. The DUI Board Certification application, vetting, and testing process is often more rigorous than many state bar specializations. See:Sources of Certification
Accreditation matters.
It matters to other attorneys.
It matters to the public.
And it should matter to you.
But, as attorneys you know not to blindly accept a statement such as "accreditation matters" without a reasoned argument. Here it is:
Accreditation matters because a shrinking minority of states neither offer their own certifications, nor offer to recognize outside certifications. Other states only recognize their own certifications and no others. However, many states allow a mix of both state-sponsored and outside certifications, and the national trend is to recognize more outside certifications. See: Find a Certification Program
Recognition by the ABA is a driving force behind such recognition. The ABA is working hard to have as many states as possible recognize their accreditation in specialty areas. It makes sense for state bar associations to accept ABA-accredited specialty programs as it lifts the financial and administrative burden off of the state bar and places it on individual organizations. ABA accreditation is a way for the state bars to have peace-of-mind that the Board Certification is not just another pay-for-play scheme. If you are in a state that does not recognize outside certifications, when NCDD Board Certification is finally recognized, you can be sure that the ABA's accreditation played a part in it.
The NCDD is in a small and elite group of organizations that offer ABA-accredited certification. Consider this: The ABA was founded on August 21, 1878 and has nearly 400,000 members which include law students, defense attorneys, prosecutors, all forms of civil lawyers, judges and supreme court justices. Currently, the ABA accredits only seven Private Board Certification Programs:
1. American Board of Certification
2. American Board of Professional Liability Attorneys
3. National Association of Counsel for Children
4. National Association of Estate Planners & Councils Estate Law Specialist Board, Inc.
5. National Board of Trial Advocacy
6. National College for DUI Defense, Inc.
7. National Elder Law Foundation
Not only are we the originals, but there is also no requirement to join the NCDD. While we would love for you to join the ranks of our 2,300-member-strong college, Board Certification does not require membership in the National College for DUI Defense. Be wary of organizations that offer "an opportunity to apply" for Board Certification only if you join their group and pay their dues. As part of the ABA Accreditation, Board Certification is not limited to any one group. Board Certification is not built upon a "pay-for-play" standard. It is a real testament to your knowledge, skill and experience, and not a testament to the depth of your pockets.
The process is a demanding test of your mental abilities, and frankly, not everyone measures up. The task is daunting and it is meant to be that way. That's what sets the National College for DUI Defense Board Certification apart from other organizations. And becoming Board Certified will set you apart from other attorneys.
If you are interested in applying, there are instructions, guidelines for studying, applications and a timeline for the processing of all documents. We invite everyone to take a look, make Board Certification part of your professional development plan and apply now at NCDD Board Certification