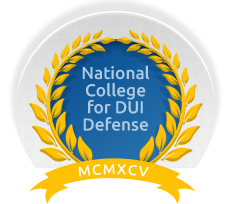 "We are excited about our MSE line up of speakers with the best and most recognized lawyers and experts in the field of DWI Defense," says Doug Murphy, a Regent with NCDD.
New Orleans, LA (PRWEB) March 04, 2016
The National College for DUI Defense (NCDD) and the Texas Criminal Defense Lawyer's Association proudly announce the agenda for the 23rd Annual Mastering Scientific Evidence (MSE) in DWI/DUI Cases to be held in New Orleans, beginning on March 31, 2016 through April 2, 2016, at the Royal Sonesta Hotel.
MSE is the preeminent DWI/DUI Scientific Evidence seminar in the country. The 23rd Annual Mastering Scientific Evidence Seminar features renowned speakers, who conducted peer-reviewed scientific research proving the fallibility of the standardized field sobriety tests. This seminar will feature not just science, but real defense trial strategies to employ in challenging police pseudo-scientific evidence and demonstrating reasonable doubt. After all the presentations are made, a mock jury trial will take place on a real DUI/DWI blood test case involving an accident and medication. Lawyers will learn proven winning trial strategies in defeating alleged alcohol/drug impairment cases from the best lawyers and experts in the country.
"We are excited about our MSE line up of speakers with the best and most recognized lawyers and experts in the field of DWI Defense. It is expected to be one of the best and most heavily attended MSE seminars we have ever held," said Doug Murphy, one of the co-course directors for the seminar, and a Regent with the National College for DUI Defense.
The focus of the seminar is to educate DUI defense attorneys who
represent drivers accused of impaired driving in cases involving alcohol and drugs. Held over a two and a half day span, presenters and topics included:

Dr. Jimmie Valentine - Advanced Gas Chromatography
Dr. Al Staubus - Etg, Hair Follicle, SCRAM & Other Drug Marker Testing
Dr. Carrie Valentine - Vehicular Accident Risk of Drugs and Alcohol in the NHTSA Sponsored Virginia Beach Study"
Jim Nesci - ELISA & LCQQQMS: (Enzyme-Linked Immuno Sorbant Assay) & (Liquid Chromatography Triple-Quadrupole Mass-Spectrometry)
Dr. Fran Gengo - Pharmacology of Ethanol & Drugs: The Disconnect Defense
Inese Neiders - Psychological Nuggets to Reach Jurors in Science Cases
Dr. Lance Platt - Drug Recognition Evaluation and Other Falsities
Janine Arvizu - Accreditation Issues & Crime Lab Problems
Jim Medley - Kinesiology & Physiology of Field Sobriety Exercises
Lenny Stamm - Persuasive Bench Trial Tactics
Amanda Culbertson - Blood Analysis Discovery: What to look for and do with the records
John Henry Hingson, III. - Keeping the Faith: How to Use Good Faith (US v. Leon) to Prove Bad Faith (AZ v. Youngblood)
Tyrone Moncriffe - Storytelling and Making Science Persuasive in Closing Argument
Ron Moore - Alcohol Pharmacodynamics: Absorption, Elimination and Retrograde Extrapolation
Ed Fiandach - Framing the Issues: How to Curse their Case with Devil Words
Tim Kulp - Breath Testing & the Source Code
Lynn Gorelick - Drugs & Prescriptions that Alter Alcohol Metabolism
ABOUT THE NATIONAL COLLEGE FOR DUI DEFENSE:
With over 2000 members, the National College for DUI Defense is the largest organization of DUI defense attorneys in the world. Through its educational programs, the College trains lawyers to represent persons accused of drunk driving. NCDD's members have extensive experience litigating issues regarding breath blood and urine tests for alcohol and other drugs. NCDD has appeared as amicus curiae in several drunk driving cases before the Supreme Court of the United States.
UPCOMING EVENTS:
May 9-14, 2016 - Serious Science: Alcohol Analysis & Trial Advocacy, Denver, Colorado
July 20-23, 2016 - NCDD Summer Session, Keynote Speakers Dean A. Strang and Jerome F. Buting, Cambridge, Massachusetts
September 22-24, 2016 - NACDL & NCDD's 20th Annual "DWI Means Defend With Ingenuity®," Las Vegas, Nevada
November 3-5, 2016 - Metrology: Science as Your Best Defense III, San Diego, California
December 10-14, 2016 - Serious Science: Drug Analysis & Trial Advocacy, Arlington, Texas