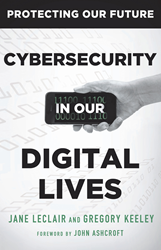 Washington, DC (PRWEB) March 30, 2015
Everyday Americans are often familiar with headline-making hacks and breaches, but few understand how and why they happen. In Cybersecurity in Our Digital Lives (Hudson Whitman/Excelsior College Press) 12 experts explore today's most pressing cybersecurity issues through the prism of the technology behind our daily digital interactions.
Edited by Dr. Jane LeClair, COO, National Cybersecurity Institute at Excelsior College and Gregory Keeley, President of Ariana Partners, the book is an ideal resource for anyone who uses digital products and services in their personal or professional lives. It explores a diverse range of cybersecurity topics from social media, mobile devices, and cloud computing to the supply chain, C-Suite, Internet of Things, legal confidentially, and even social engineering.
Contributors include a range of information security and intelligence experts from the public, private, and nonprofit sectors, including: Diana Burley, Ron Carpinella, Dave Chesebrough, Reg Harnish, Kevin Jackson, Thomas Malatesta, Pete O'Dell, Andrew A. Proia, Drew Simshaw, Derek Smith, James Swanson, and Justin Zeefe. In their respective chapters, each expert explains what readers need to know about the issue, discusses threat scenarios, and offers best practices and recommendations on what can be done to enhance security.
"While systems, tools, and rules can help build a bubble of defense against cyber-attack, their deployment are oft times too late. In the end, the most important resources for threat prevention and attack mitigation are found in the preparedness of trained professionals. This book examines how individuals and organizations can be better prepared," writes John Ashcroft, 79th U.S. Attorney General, in the Foreword.
To learn more or to purchase Cybersecurity in Our Digital Lives, visit the Hudson Whitman/Excelsior College Press website.
National Cybersecurity Institute
National Cybersecurity Institute (NCI) at Excelsior College is an academic and research center based in Washington, DC dedicated to assisting government, industry, military, and academic sectors meet the challenges in cyber security policy, technology, and education.
Excelsior
Excelsior College is a regionally accredited, nonprofit distance learning institution that focuses on removing obstacles to the educational goals of adult learners. Founded in 1971 and located in Albany, NY, Excelsior is a proven leader in the assessment and validation of student knowledge. It offers more efficient and affordable access to degree completion through multiple avenues: its own online courses and college-level proficiency examinations, and the acceptance in transfer of credit from other colleges and universities as well as recognized corporate and military training programs. Excelsior College is accredited by the Middle States Commission on Higher Education.