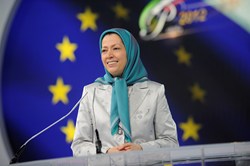 Talking about a moderate president in the religious fascism ruling Iran, where the power and all key institutions are controlled by the supreme leader, is nothing but deception."
Maryam Rajavi,
President Elect NCRI
Paris, France (PRWEB) August 08, 2013
The Paris based National Council of Resistance of Iran (NCRI) took on characterization of new Iranian President as a "Moderate". Hassan Rhouhani, who has been a key regime member for more than three decades, is not expected to make much of a difference according to the opposition group.
Maryam Rajavi, President-Elect of the NCRI issued the following statement:
"Talking about a moderate president in the religious fascism ruling Iran, where the power and all key institutions are controlled by the supreme leader, is nothing but deception," said the NCRI leader.
"The Iranian regime will try once again to deceive the international community under the pretext of a new president and buy more time for its dangerous projects such as obtaining nuclear bomb, saving the Syrian dictator and imposing its absolute hegemony in Iraq. While the regime through Rouhani pretends to be interested in negotiation with the international community, at the same time it has accelerated its drive to produce nuclear bomb, and dispatching forces and shipping Arms to Syria through Iraq. Expecting religious dictatorship to become moderate is a mirage that the mullahs' regime has misled the world community with it for the past 30 years," added Rajavi.
Much of the political power in Iran rests with the supreme leader, Ayatollah Ali Khamenei.
NCRI does not believe that Rouhani is willing or capable of pulling this off especially with the intervention of the Supreme Leader. In a statement on Aug 5, the NCRI announced that the cabinet introduced by Rouhani to the parliament "is comprised of senior officials of the regime in past three decades who have played the most significant roles in war, suppression, and export of terrorism and fundamentalism.
The NCRI, underscored that "none of the cabinet members have been chosen out of the circle of mullahs' regime officials of the past 34 years and not even one woman has been nominated for ministerial posts."
The NCRI is widely considered the most potent and powerful anti-regime organization in the world. The NCRI is headquartering in Paris. Its biggest member organization is the People's Mojaedin Organization of Iran (PMOI/MEK) The Iranian resistance, with a vast network in and out of Iran battles the existing government on many fronts. See more about them at http://www.ncr-iran.org/.