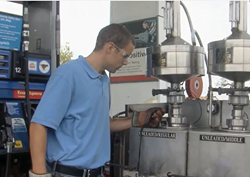 LINCOLN, Nev. (PRWEB) February 26, 2019
The National Conference on Weights and Measures (NCWM) announces Weights and Measures Week, March 1 -7, 2019. These dates are designated every year to commemorate President John Adams's signing of the first United States weights and measures law on March 2nd, 1799.
Chairman Brett Gurney of the Utah Department of Agriculture announced his theme for the year, "Valued Traditions & New Innovations – Confidence in Every Transaction". Gurney explained that inspectors have been verifying and testing scales and meters and the net contents of packaged goods for many, many years. It may seem routine, but it is a constant challenge to keep pace with new technology and marketing practices.
These officials must also embrace technology and innovation in how they approach verifying and testing. "We need to be innovative. We live in a time where technology is changing quickly'" said Gurney in his address to the 103rd NCWM Annual Meeting. "It is so important for our organization to be at the forefront: working to come up with better solutions to the way we do things. Exciting times, new challenges and new opportunities are before us."
NCWM brings regulatory officials and industry together to meet those challenges. Together they develop equitable standards that allow continued consumer confidence in every transaction. Those standards as adopted by NCWM are published by the National Institute of Standards and Technology in Handbooks 44, 130 and 133. States in turn use those model standards which provide a uniform system of commercial measurement for the United States.
Standards development is only part of the challenge. Inspectors need ongoing training in implementing those standards. Gurney explained, "One of the best sources of training is through participation in regional weights and measures associations and in NCWM. This is where the learning begins as new innovations are introduced." He added that the partnership between industry and regulators in those organizations is truly one of the most valued traditions in the world of weights and measures.
The National Conference on Weights and Measures is a professional nonprofit association of state and local weights and measures officials, federal agencies, manufacturers, retailers and consumers. NCWM has developed national weights and measures standards since 1905. The organization brings the right interests together to keep pace with innovative advancements in the marketplace.