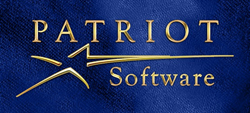 "Our customers really appreciate our great support department," she explained. "The Patriot team really goes above and beyond to make sure our customers are satisfied. That level of service is hard to find these days!"
Canton, Ohio (PRWEB) November 17, 2014
The business-friendly state of Nebraska is one of the latest states to receive approval for Patriot PAY online payroll from Patriot Software.
"Nebraska employers now have an affordable new option for payroll," said Michele Bossart, marketing coordinator for Patriot Software, which is based in Ohio. With the addition of Nebraska, Patriot PAY is now available in 45 U.S. states, as well as Washington, D.C. and the U.S. Virgin Islands.
Business owners in the Cornhusker state can run payroll anytime or anywhere with an internet connection, says Bossart. Employers simply log into the secure website, enter their employees' hours, and in a few clicks they are finished. The software calculates all applicable federal, state and local payroll taxes with guaranteed accuracy.
Nebraska employers can choose from two payroll options: Basic Payroll, in which employers make their own payroll tax filings and deposits, or Full-Service Payroll, in which Patriot Software handles all payroll tax deposits and filings on behalf of the employer.
Regardless of which option they choose, customers also receive free direct deposit and access to a complimentary employee portal, MY Patriot.
"Employees can log into the employee portal to see their pay stubs and manage all of their personal information," Bossart said. "This is a great benefit that Nebraska employers can offer employees."
Business owners can try a 7-day self-guided demo of the payroll software, as well as other integrated applications, including HR, timekeeping and accounting software. If they sign up for the software, they will have a complimentary 30-day trial. There are no long-term obligations or cancellation fees, said Bossart.
Patriot Software also offers free payroll setup and routine support to customers, which is a great benefit to small business owners, Bossart said.
"Our customers really appreciate our great customer support department," she explained. "The Patriot team really goes above and beyond to make sure our customers are satisfied. That level of service is hard to find these days!"
For more information, visit http://www.patriotsoftware.com or call (877) 968-7147.