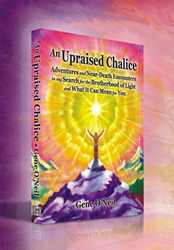 Are You Spiritual but Not Religious?
Brattleboro VT (PRWEB) June 30, 2014
Unusual near-death experiences (NDEs) chronicled throughout an epic lifetime search for truth outside of religious doctrine are the subject of a controversial new book that was just selected by Barnes & Noble. The hows and whys of NDEs are explored in a new autobiography that reviewers are describing as a spiritual adventure story. ForeWord Reviews stated in their five-star review: "Nothing gets one's attention like one's imminent demise, writes Gene O'Neil in 'An Upraised Chalice,' a book that chronicles the remarkable travels, adventures, and near-death experiences that have marked his quest to discover the meaning of life. O'Neil's practical insights, born of experience, cut across religious boundaries to convey a vibrant spirituality in plain, accessible language."
According to J. Mahon of ASEMC Press, "Unlike the near-death experiences that have been the subject of recent bestselling books, such as 'Proof of Heaven,' the multiple near-death experiences related in 'An Upraised Chalice' convey a different perspective. In one instance the author was warned by the great archangel immediately prior to a fatal head-on accident in which both the author and the other driver were killed – but the author was sent back after having additional experiences on the other side. This specific near-death experience actually began a few minutes before the trauma of the head-on crash, effectively silencing many skeptics that say that NDE experiences occur because the brain is starved for oxygen as it begins shutting down."
Denis Ouellette, the editor of Natural Life News stated in his review, "Periodically a book comes along that is capable of changing people's minds about Reality. The just-released "An Upraised Chalice" is one such book. It chronicles the world travels and the inner and outer experiences of the author that have marked his life, told in an engaging style, filled with pictures taken along the way, and ringing of the truth of experience. With other such books, such as Proof of Heaven" and "Heaven Is for Real" (now a movie), it seems the tide is turning for the mainstream's acceptance of life after death."
'An Upraised Chalice – Adventures and Near-Death Encounters in My Search for the Brotherhood of Light and What It Can Mean for You ' ISBN 978-0-9912635-0-9 is now available around the world from Amazon and in the US by Barnes & Noble and bookstores everywhere in both print and eBook formats.