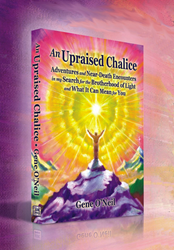 multiple near-death experiences
Brattleboro, VT (PRWEB) December 01, 2014
Near-death experiences and the "spiritual but not religious" label set apart a controversial new title carried by Amazon, Barnes & Noble and New Leaf Distributing Company. 'An Upraised Chalice' has received dozens of 5 Star reviews and is described as spiritual adventure story spanning the earth and featuring multiple near-death experiences. According to ASEMC Press, many are looking for answers to age old questions that organized religion can no longer adequately address. The book features an epic quest for understanding and is indicative of the new spiritual paradigm moving across America.
The hows and whys of near-death experiences and the meaning of life are explored in a new autobiography that reviewers are describing as a spiritual adventure story. The 5-Star ForeWord Review of 'An Upraised Chalice' states "Nothing gets one's attention like one's imminent demise - the book chronicles the remarkable travels, adventures and near-death experiences that have marked the authors quest to discover the meaning of life. The practical insights detailed here, born of experience, cut across religious boundaries to convey a vibrant spirituality in plain, accessible language."
According to J. Mahon of ASEMC Press, the following excerpt conveys an experience that most people will have. "The years move forward and everyone is attending to their life's priorities, focusing on how to be happy, make a living and raise a family. The years turn into decades and sooner or later, (hopefully later) sickness or accidents happen and all are again confronted with the big questions: Why? What's next? What has this life that I've lived been about? As one begins to consider their own eventual departure: What have I been able to do to make things a little better? What have I passed along to make others' lives more beautiful?." From the back cover: "The story details the lifelong chain of events that brought about these intercessions and the prior and subsequent interaction with the Great Ones that so shaped the author's life. And there is a much deeper story here. A story that is vast in its implications and that contains a challenge to all who seek to know the truth—a story that helps answer our greatest question: why are we here?"
The editor of Natural Life News stated in his review, "Periodically a book comes along that is capable of changing people's minds about Reality. The just-released "An Upraised Chalice" is one such book. It chronicles the world travels and the inner and outer experiences of the author that have marked his life, told in an engaging style, filled with pictures taken along the way, and ringing of the truth of experience."
'An Upraised Chalice – Adventures and Near-Death Encounters in My Search for the Brotherhood of Light and What It Can Mean for You ' ISBN 978-0-9912635-0-9 is now available around the world from Amazon and in the US by Barnes & Noble and bookstores everywhere via New Leaf Distributing Company.