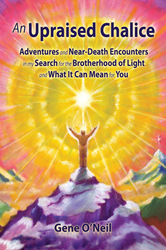 Nothing gets one's attention like one's imminent demise.
Brattleboro, VT (PRWEB) April 07, 2014
ASEMC Press announces the May Day release of a new book on unusual near-death experiences (NDEs). The hows and whys of NDEs are explored in a new autobiography that reviewers are describing as a spiritual adventure story. ForeWord Reviews stated in their March 19th five-star review: "Nothing gets one's attention like one's imminent demise, writes Gene O'Neil in 'An Upraised Chalice,' a book that chronicles the remarkable travels, adventures, and near-death experiences that have marked his quest to discover the meaning of life. O'Neil's practical insights, born of experience, cut across religious boundaries to convey a vibrant spirituality in plain, accessible language."
According to J. Mahon of ASEMC Press, "Unlike the near-death experiences that have been the subject of recent bestselling books, such as 'Proof of Heaven,' the multiple near-death experiences related in 'An Upraised Chalice' convey a different perspective. In one instance the author was warned by the Archangel Michael immediately prior to a fatal head-on accident in which both the author and the other driver were killed – but the author was sent back after having additional experiences on the other side."
"An Upraised Chalice" explores the cause-and-effect relationship (known in some circles as karma) and how this played out in multiple near-death experiences that the author had over the course of a few dozen years. Professional readers, including booksellers, librarians, media, bloggers, reviewers and educators can obtain free review copies at the NetGalley page for "An Upraised Chalice."
According to Mahon, the May 1 release of this controversial book poses the question, "Do you consider yourself more spiritual than religious? Many have turned away from traditional, organized religions to explore their own relationship with the Divine. The author answers the question with his own intense story, while on a lifetime quest that takes him outside the realm of conventional religions."
"An Upraised Chalice – Adventures and Near-Death Encounters in My Search for the Brotherhood of Light and What It Can Mean for You" ISBN 978-0-9912635-0-9 will be available from Amazon and through Ingram's distribution network on May 1, 2014, available in both print and eBooks.