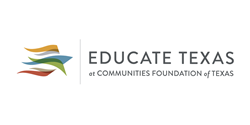 We felt compelled to do whatever we could as a collective to help provide relief and educational assistance to ensure students kept learning even in the face of so much devastation," said George Tang, managing director of Educate Texas
DALLAS (PRWEB) August 09, 2018
The $1.6 million Harvey KIDS Education Fund raised by Educate Texas, the education arm of the Communities Foundation of Texas, and its funding partners to support K-12 students in the Hurricane Harvey-affected Gulf Coast region of Texas, has assisted more than 76,000 students to date, according to school districts receiving recovery grants. These grants, applied for through Educate Texas, provided recovery funds to 25 school districts, supporting a variety of requests including transportation for displaced students, provision of mental health and social services for students and their families, additional instructional resources and basic necessities.
"Hurricane Harvey decimated an entire region – and that included hundreds of schools," said George Tang, managing director of Educate Texas. "We felt compelled to do whatever we could as a collective to help provide relief and educational assistance to ensure students kept learning even in the face of so much devastation."
Major Harvey KIDS funders included the Bill and Melinda Gates Foundation, The Boone Family Foundation, Communities Foundation of Texas, Lyda Hill Foundation, The Meadows Foundation, ORIX Foundation, Rainwater Charitable Foundation, and United Way of Metropolitan Dallas.
Specifically, the fund was developed to support Immediate Relief Efforts – short to mid-term investments to be spent on direct challenges related to the storm, such as damaged infrastructure, services for displaced students, mental health and instructional supports, etc. – and Longer-Term, Rebuilding Efforts – systemic investments such as school redesigns, targeted social supports, human capital initiatives and early childhood assistance strategies.
However, given the overwhelming demand for Immediate Relief Supports from schools, fund managers decided to focus the grantmaking on meeting immediate relief requests from the school districts.
Grant funds received by the school districts ranged from $3,000 to $147,000 with the average amount being approximately $64,000. The greatest needs were seen in the areas of providing transportation for displaced students, instructional supports including the hiring of interventional teachers and additional educational programs, and increasing mental health and social supports to students and their families. The complete list of funded efforts can be found HERE.
A few examples of funded projects include:

Pasadena ISD – More than 3,300 students were homeless or displaced as recently as February 2018. The district received grant funds to hire Homeless Case Managers and interventional teachers/tutors to help students make up for lost instructional time.
Alvin ISD - Received a Harvey KIDS grant to help the district with additional costs incurred to provide transportation to more than 500 displaced students.
Columbia-Brazoria ISD - Received grant funds to hire mental health professionals and behavioral consultants to work with their students and provide trauma training for their staff. In addition to the loss of instructional time for students, many school districts, including Columbia-Brazoria ISD, dealt with substantial student trauma and other mental health and behavioral issues.
"Hurricane Harvey impacted our Pasadena families. Pasadena ISD would not have provided the services to our homeless families impacted by Harvey without the help of the Harvey KIDS Education Funds," said Neitzy Retta, Homeless Coordinator Pasadena ISD – Special Programs. "Alone we can do so little, TOGETHER we were able to provide so many direct services to our students impacted by Harvey."
About Educate Texas
Launched in 2004 as Texas High School Project, Educate Texas, a public-private initiative of Communities Foundation of Texas, is dedicated to ensuring Texas students have the guidance and resources needed to graduate high school ready for college and career success. We bring together key organizations committed to improving education in Texas, working with school districts, community colleges, technical schools and regional universities to implement programs and practices promoting postsecondary readiness, access and success for all students. Educate Texas' public-private partners include: the Texas Education Agency, Texas Higher Education Coordinating Board, Governor's Office, Texas Legislature, Bill & Melinda Gates Foundation, Michael & Susan Dell Foundation, The Meadows Foundation, the Greater Texas Foundation, and more. For more information, please visit: edtx.org.