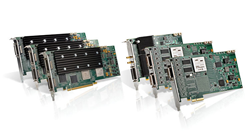 MONTREAL (PRWEB) May 14, 2015
At the 2015 NEC Solutions Showcase (May 20–21, Vinopolis London), Matrox® Graphics Inc. will collaborate with leading AV-industry suppliers to present integrated control room, digital signage, video display wall and AV-over-IP solutions for a variety of applications.
In the Command & Control Zone, Matrox Mura™ MPX Series video wall controller boards will take 11 inputs from assorted CCTV camera sources. Four Full HD outputs will drive a quad input 98" 4K display whilst two additional Mura outputs (cloning part of the Mura video wall) provide inputs to a Hiperwall streaming client to a Hiperwall video wall. This set up will also feature Matrox Avio™ fiber-optic KVM extenders extending the Matrox P690-driven console screen to the peripherals at the control desk. Matrox Mura cards feature flexible inputs and high-quality outputs allowing AV integrators, system builders and equipment manufacturers to easily and cost-effectively build high-density video wall controller systems supporting custom video walls of almost any size. Exceptional-quality scaling, switching, and compositing of source content including HDCP feeds are easily managed through intuitive control options including Matrox MuraControl™ software, third-party software and simple integration with existing AV control systems.
In the Innovation Zone, Matrox Maevex™ H.264 encoders and decoders will be used to deliver Full HD AV-over-IP content to five different models of NEC displays over a LAN. Maevex delivers exceptional quality AV streaming at low bandwidth over standard IP networks for display or for storage anywhere on the LAN. Maevex encoders can be combined with Maevex decoders or third-party software decoders to stream up to Full HD digital signage, education and training materials, camera footage, desktop screen capture and other AV content to one or more displays and to collaborative video walls.
In the Corporate Zone, Matrox C-Series multi-display graphics cards will drive multi-monitor desktops. C-Series cards also let signage integrators build high-impact display walls that are reliable and easy to install. C-Series provides outstanding video performance with advanced multi-monitor capabilities and EDID management via intuitive software to simplify both portrait and landscape installations. The cards feature 2 GB of on-board memory and secure mini DisplayPort connectivity. Matrox C680 supports up to six 4K/UHD displays. More displays can be supported by inserting two C680 cards into a system. The board-to-board framelock feature ensures synchronization of all displays to reduce tearing on digital signage and video walls. Matrox C420 is ideal for use in the small-form-factor systems needed in tight signage setup spaces. It's also the fastest quad card with passive cooling, for increased reliability and silent operation.
Just outside the Innovation Zone, "The Cube" will be using three Matrox TripleHead2Go™ external multi-display adapters to drive the 3x3 display array that forms the floor of the cube. TripleHead2Go provides an easy way to drive three DVI panels natively from the single DisplayPort output from Green Hippo's Par4Keet video player.
About Matrox Graphics Inc.
Matrox Graphics is a global manufacturer of reliable, high-quality ASICs, boards, appliances, and software. Backed by in-house design expertise and dedicated customer support, Matrox products deliver stellar capture, extension, distribution, and display. Engineering high-quality products since 1976, Matrox technology is trusted by professionals and partners worldwide. Matrox is a privately held company headquartered in Montreal, Canada. For more information, visit http://www.matrox.com/graphics.
Media Contact:
Janet Matey
Media Relations Manager
Tel: +1 (514) 822-6037
Email: pr(at)matrox(dot)com
Matrox and Matrox product names are registered trademarks and/or trademarks of Matrox Electronic Systems, Ltd. and/or Matrox Graphics Inc. in Canada and/or other countries. All other company and product names are registered trademarks and/or trademarks of their respective owners.