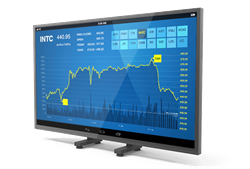 Newark, DE (PRWEB) October 03, 2013
TablerTV, an innovative hardware design house, teamed with NEC to introduce a new line of Touch Screen Tablet products, which is ten times larger than cusumer tablets. With seamless Multi-Touch integration, NEC V-series (V423, V463, V552, etc) can now be enabled as a Touch Monitor with full Multi-Touch interaction. Starting from 42" with dual-core processor built-in, the giant tablet solution is designed for professional and business use.
With increasing demand from business and digital signage applications, larger NEC touch screen display enables a group of participants to watch and interact with the digital content in the conference rooms, classrooms, retail chains, hotels, restaurants, financial centers, hospitals as well as other public locations. By monitoring the market demand and listening to the customers, TablerTV together with NEC have chosen the best Multi-Touch chipset design for larger displays supporting up to 200 fps scan rate, which allows the smoothest touch experience. When screen goes larger, you'll need a much faster sensor than what is in a smaller tablet. This is because your finger is free to moves faster in a wider surface area than what is happening on the small screen. You don't want your Multi-Touch sensor to intermittently lose track of fingers in your large screen professional quality tablet. By coming up with an elegant product design and using the state of the art technology, TablerTV has raised the bar ahead of competition.
TablerTV's new product series are currently in the volume production, allowing more affordable price for businesses of all kinds to take advantage of the large touch screen technology. TablerTV also produces 42" Touch Screen Overlay for NEC V423, 46" Touch Screen Overlay for NEC V463, 55" Touch Screen Overlay for NEC V552 for quick tablet setup and install.
Want to see how the giant tablet works in real action? Visit TablerTV: NEC 42" Multi-Touch Screen Tablet in Youtube video channel.