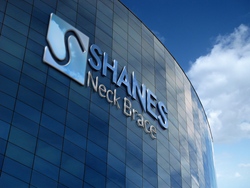 Shanes Neck Brace is handmade in the USA, waterproof, highly adjustable, durable and works for all types of medical conditions.
Phoenix, Arizona (PRWEB) August 11, 2014
Shanes Neck Brace, the best cervical neck brace in the US, is now available for distributor, wholesale and institutional purchasing. The brace is lightweight, fully adjustable, waterproof and hand made in the USA. Call (623) 295-2505 for more information and to place orders.
For years, Shanes Neck Brace has been available worldwide to patients suffering from ALS, Torticollis, Whiplash, dystonia, arthritis, Parkinsons disease and trauma. There truly is no neck brace like it on the market.
Not only is it able to be worn for long periods, Shanes Neck Brace is fully adjustable in both the front and back while being waterproof as well. The brace is durable and lightweight as well with amazing postural support. One of the important quality aspects of the brace is that it is hand made in the USA and has a 100% satisfaction guarantee.
The brace has been recommended heavily by all levels of medical providers including MD's, DO's, Nurse Practitioners, Physician Assistants, Chiropractors and Physical Therapists. The company has a long list of patient testimonials as well.
Recently, the company opened a new production facility to meet the ordering needs for institutional, distributor and wholesale accounts. Preferred pricing is available for approved accounts.
For more information and to become an approved account with Shanes Neck Brace, the best neck support brace available, call (623) 295-2505.