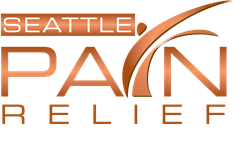 Over 90% of patients with neck pain are successfully treated nonoperatively at Seattle Pain Relief!
Seattle, Washington (PRWEB) April 27, 2015
The top pain management clinic in the Northwest, Seattle Pain Relief, is now offering over ten effective neck pain treatments. New options for neck pain relief include radiofrequency ablation and facet blocks. For more information and scheduling, call (855) WASH-PAIN.
Millions of individuals suffer from neck pain every year, either due to a traumatic incident or from degeneration such as arthritis or a disc problem. Whiplash is a common occurence, along with post-traumatic arthritis, sciatica, and even post-surgical arthritis and pain in adjacent segments.
Most neck pain patients can be treated without the need for surgery with the multitude of available options. These include oral or topical medications, trigger point injections, facet blocks, medial branch blocks, radiofrequency ablation and more. Short term bracing may help, and epidural steroid injections may be indicated too.
Radiofrequency ablation has been a revolutionary treatment option for neck and back pain, and may provide up to 18 months of consistent pain relief. If the neck pain returns, a repeat procedure typically works just as well.
The Double Board Certified pain management doctor in Seattle has successfully treated over 90% of patients at the clinic without the need for surgery. Most insurance is accepted, including PPO's, Medicare, Workers Compensation, Personal Injury Liens and more.
Call (855) WASH-PAIN for more information and to schedule for neck pain treatment Seattle trusts.