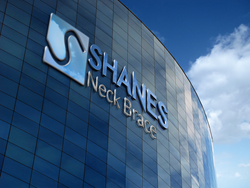 Shanes Neck Brace provides amazing pain relief and support for those with neck arthritis. it's hand made in the US, waterproof, durable and fully adjustable!
Phoenix, Arizona (PRWEB) August 25, 2014
Shanes Neck Brace, the top cervical collar on the market, is now available to those individuals suffering from pain due to neck arthritis. The brace is fully adjustable in both the front and back, waterproof, low profile and hand made in the USA. Visit the website to place orders or call (623) 295-2505 for support or to place institutional orders.
Traditional neck braces for arthritis have several problems. Most are high-profile and unsightly, along with being very uncomfortable after short periods. Shanes Neck Brace solved this issue by being very low profile, attractive and allows some slight range of motion in the brace. By doing this, the brace can comfortable be worn for many hours at a time, and does not lead to degraded muscle tone.
Each brace is hand made in America, and is easily adjustable in both the front and back to fit all size necks. By being waterproof, individuals can do all kinds of activities in the brace, even shower. It comes with a 100% Satisfaction Guarantee.
Along with now being available as a neck brace for arthritis, Shanes Neck Brace also works well for ALS, Parkinsons, Whiplash, torticollis, dystonia, MS, drop head, trauma and more. For only $129, the brace represents an immense value and can be ordered online.
For those with neck arthritis, there is no better brace available than Shanes Neck Brace. For additional information or insitutional orders for the neck support brace, simply call (623) 295-2505.