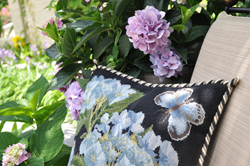 ...each Elizabeth Bradley Home product reflects a museum quality that is unmatched.
Raleigh, NC (PRWEB) August 06, 2014
Known for decades as the leading producer of needlepoint tapestry kits, Elizabeth Bradley Designs enters the luxury home and design space with Elizabeth Bradley Home and the unveiling of its first ever collection of finished needlepoint products.
With the Fall 2014 introduction of Elizabeth Bradley Home, its first collection will encompass 16 pillows with heritage pieces reflective of the brand's traditional English tapestry designs. The products reflect artisan craftsmanship, making them a perfect work of art to display in any room of the home.
The world's premier needlepoint stitchers will spend approximately 120 hours on each design. These artisan stitchers are also known for their work with top fashion designers around the world. From the appliquéd cording that is hand sewn onto the pillow to the use of the brand's own top quality wool produced in the United Kingdom, each Elizabeth Bradley Home product reflects a museum quality that is unmatched.
The products feature a Victorian Cross needlepoint stitch technique, which when compared to the commonly used techniques of other well-known needlepoint brands, specifically shows the expert craftsmanship and luxurious attention to detail offered in its quality products. In addition, this particular stitch ensures the durability and long-lasting beauty of each piece that the standard technique cannot guarantee.
The brand has big plans for the future with seasonal collections to suit all styles from traditional to modern.
Retail prices for Elizabeth Bradley Home's collection of finished needlepoint pillows are expected to be between $400-$600.
About Elizabeth Bradley Home
With a rich history in English Tapestry, Elizabeth Bradley Designs is launching Elizabeth Bradley Home, a collection of the finest finished needlepoint products for the home market. Starting in the fall of 2014, Elizabeth Bradley Home will introduce 16 finished luxury needlepoint pillows. Each piece requires approximately 120 hours of skilled hand stitching, making them a unique, timeless product and a true work of art.
Elizabeth Bradley Home designs and pillows are available for select photo shoots and editorial features. For media and press inquiries or for more information about Elizabeth Bradley Home, please contact Marina Maib at Cloud12 Group – (913) 481-3678 or Marina(at)cloud12group(dot)com.
Readers who are interested in learning more about Elizabeth Bradley Home are encouraged to visit http://www.ElizabethBradleyHome.com this fall.