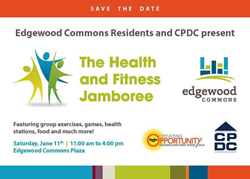 CPDC's Edgewood Commons is currently undergoing a $44 million redevelopment to transform the campus into an open, vibrant and engaged mixed-income community.
Silver Spring, MD (PRWEB) June 09, 2016
On Saturday, June 11, CPDC along with community leaders and residents will host a Health and Fitness Jamboree at its Northeast Washington, D.C. Edgewood Commons community. The event will feature a ribbon-cutting for a new walking trail, fitness station tours, health screenings, healthy cooking demos, exercise stations, games, food and more.
Event partners and participants include: NeighborWorks America, Ward 5 Councilman Kenyan McDuffie, Metropolitan Police Department, Emmaus, DC Greens, Cultivate the City, Dance Place, Ward 5 Drug Free Coalition, Beacon House and Edgewood-Brookland Family Support Collaborative, among several others.
In addition to launching the opening of Edgewood's new fitness trail, exercise stations and other new outdoor features, the Health and Fitness Jamboree contributes to a week-long celebration of neighborhood revitalization activities nationally recognized as NeighborWorks Week.
During NeighborWorks Week (June 4-12), CPDC and other NeighborWorks organizations across the country are mobilizing tens of thousands of residents, business people and government officials in a week of neighborhood change and awareness.
"NeighborWorks Week is an excellent time to celebrate the power of collaboration and partnerships in transforming communities and creating opportunity," said Khyati Desai-Seltzer, CPDC Director of Resident Engagement. "When residents, community leaders, local businesses and organizations come together, change happens and everyone benefits."
CPDC is part of the national NeighborWorks network, an affiliation of more than 240 national nonprofit organizations. The NeighborWorks network is supported by NeighborWorks America, which creates opportunities for people to live in affordable homes, improve their lives and strengthen their communities. Last year, the NeighborWorks network helped nearly 356,000 individuals and families with affordable housing and counseling.
CPDC's Health and Fitness Jamboree will take place at the Edgewood Commons Plaza on Saturday, June 11 from 11:00 a.m. to 4:00 p.m.
For more information on NeighborWorks Week, visit http://www.NeighborWorks.org/NeighborWorksWeek.
About CPDC:
For over 25 years, Community Preservation and Development Corporation (CPDC) has served D.C., MD and VA as a leading not-for-profit real estate developer through the acquisition and redevelopment of award-winning affordable housing. We specialize in mixed-income and mixed-use developments, historic preservation, adaptive reuse and are recognized for innovative financing, green building design and public-private partnerships.
With more than 9,000 residents in over 4,500 apartment homes, CPDC is committed to the long-term success of our portfolio and our residents. We deliver innovative Community Impact Strategies (CIS) designed to help individuals and entire neighborhoods grow and thrive. CPDC is a community developer and proud member of NeighborWorks America, the nation's leading trainer of community development and affordable housing professionals.
About NeighborWorks America:
For more than 35 years, NeighborWorks America, a national, nonpartisan nonprofit, has created opportunities for people to improve their lives and strengthen their communities by providing access to homeownership and to safe and affordable rental housing. In the last five years, NeighborWorks organizations have generated more than $27.2 billion in reinvestment in these communities. NeighborWorks America is the nation's leading trainer of community development and affordable housing professionals.
Press Contact:
Meghan Thornton
CPDC, Marketing and Communications Manager
Email: mthornton(at)cpdc.org
Office: 202.412.9962