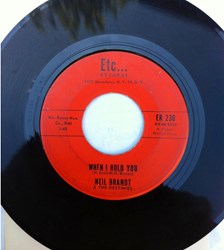 Novato, CA (PRWEB) September 12, 2013
Recite The Prayer Heard 'Round The World! Follow up Neil's Videos with "Your Perfect Prayer To God!" Celebrate this 50th anniversary of Neil's active recording career by listening to 'Tears In My Eyes' and 'When I Hold You'. Don't forget to check out his his recent infotainment UFO/Cloud hit YouTube video, "Kapow!"
Some of Neil's colorful accomplishments include song writing, UFO lecturer, and expert in the Mysteries of the Unknown. Recently Mr. Brandt's emphasis has shifted to a more spiritual pursuit so he created The Messiah Network, a website devoted to "Your Perfect Prayer To God!" As a tribute to all the good work he's done, the Messiah Network has produced entertaining and uplifting YouTube videos with the music from his original recordings from 1964.
About Neil H. Brandt: Neil has established himself in the main press from coast to coast over the years. Some of Neil's accomplishments: During the spring of 1967 he wrote the lyrics, "Laughing, Crying, Laughing" for Robert Plant – later to be lead singer of Led Zeppelin. Neil has appeared on many radio and TV shows (CNN, Larry King, Regis Philbin) and he has published books and various articles on a variety of thought provoking topics. He has knowledge and in depth experiences about spirituality and visionary quests. He also has many controversial theories on UFO's, Bigfoot, and Ancient Monuments. Neil's most recent accomplishments are The Messiah Network website and YouTube Channel that have helped so many people and have provided a variety of infotainment videos. They have had over 250,000 views and counting.
In the past year, Neil's most significant creation, The Messiah Network, was sparked by his idea to give back to the world with "Your Perfect Prayer To God!" The Messiah Network provides a solution to help people respond to the uncertainties of the world in which we live and the moral and ethical challenges we face. Visit TheMessiah.Net. Examine, recite and share, "Your Perfect Prayer To God!" Our goal is to help people connect directly to God. The website forum has helped a growing number of people throughout the world as evidenced by the large number of positive comments and loyal following. Anyone can suggest a path or open a door but ultimately it is up to each individual to communicate with God. You can follow The Messiah Network on Twitter or Facebook or read the Blog on TheMessiah.Net.
Neil H. Brandt is available for live interviews or questions regarding The Messiah Network and other specialty topics. Please contact at: Media(at)TheMessiah(dot)Net.