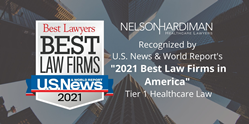 The 2021 rankings are based on the highest lawyer and firm participation on record, incorporating 8.3 million evaluations of more than 110,000 individual leading lawyers from more than 22,000 firms.
LOS ANGELES (PRWEB) November 09, 2020
Nelson Hardiman was awarded a Tier 1 ranking in Health Care and Administrative/Regulatory Law in Los Angeles and a Tier 2 ranking Nationally in Health Care by the U.S. News & World Report's "2021 Best Law Firms in America." Ranked firms, presented in three tiers, are recognized on a national and regional-based scale. Firms that received a tier designation reflect the highest level of respect a firm can earn among other leading lawyers and clients from the same communities and practice areas.
Firms included in the 2021 Edition of U.S. News-Best Lawyers "Best Law Firms" recognizes the top 5% of private practicing lawyers in the United States. Achieving a tiered ranking signals a unique combination of quality law practice and breadth of legal expertise.
Earlier this year, four Nelson Hardiman Partners, Harry Nelson, Mark Hardiman, Aaron C. Lachant, and John A. Mills were named to the 2021 Best Lawyers in America List.
This year marks the tenth consecutive year that Harry Nelson was recognized and the sixth consecutive year that Mark Hardiman was recognized by Best Lawyers. Mark, Harry, and John Mills were nominated for their specialty in Healthcare Law. Aaron Lachant was selected for both Healthcare Law and Litigation and John Mills was selected for Healthcare Law and Administrative/Regulatory Law. For the first time, Harry was recognized by Best Lawyers for leadership in focusing on COVID-19.
For the first time in the history of Best Lawyers, Partner Kathryn F. Edgerton and Attorney Katherine Bowles were named in the inaugural edition as Best Lawyers: Ones to Watch (2021). These awards are recognitions given to attorneys who are earlier in their careers for outstanding professional excellence in private practice in the United States.
"The 2021 rankings are based on the highest lawyer and firm participation on record, incorporating 8.3 million evaluations of more than 110,000 individual leading lawyers from more than 22,000 firms. "For the 2021 'Best Law Firms' publication, the evaluation process has remained just as rigorous and discerning as it did when we first started 11 years ago." says Phil Greer, CEO of Best Lawyers. "This year we reviewed 15,587 law firms throughout the United States – across 75 national practice areas – and a total of 2,179 firms received a national law firm ranking. We are proud that the 'Best Law Firms' rankings continue to act as an indicator of excellence throughout the legal industry."