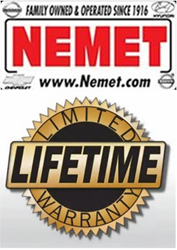 We are here for our customers every step of the way, as we help them through the entire buying or leasing process.
Jamaica, New York (PRWEB) February 28, 2014
Nemet Nissan offers the very best it can to its customers in terms of savings and service. Shoppers should know that Nemet Nissan is offering more to its customers than the usual exceptional options. Right now, Nemet Nissan is offering its Nemet True Value Program to any customers who "Like" the dealership on Facebook before visiting the dealer to make their final purchase.
The Nemet True Value Program offers customers:

Possible savings up to 14 percent off MSRP
Free CarFax
VIP Customer Service
Hassle-Free Car Buying Experience
"We want to offer our customers the chance to enjoy all of our benefits from our daily services to our newest Value Program," said Scott Perlstein, General Manager of Nemet Nissan. "We are here for our customers every step of the way, as we help them through the entire buying or leasing process."
Along with the newest Nemet Value Program, customers are welcome to shop the specials that may be available, such as the following:
2014 Nissan Altima, starting at $22,110
2014 Nissan Maxima, starting at $31,200
2014 Nissan Rogue, starting at $22,490
2014 Nissan Versa Note, starting at $13,990
With the offered protection within Nemet Nissan's Lifetime Powertrain Warranty, owners have no need to worry. The program is available on all-new and select pre-owned models and gives the same protection on the parts as the Factory Powertrain Warranty. Owners only need to keep to the maintenance schedule and keep all paperwork for any work and maintenance that is done.
Customers from Jamaica, Queens, Long Island City, Brooklyn, Forest Hills, Woodhaven, Ozone Park, Bayside and beyond are welcome to visit Nemet Nissan to take advantage of the specials that are available.
For more information about Nemet Nissan, one of the local Queens Nissan dealers, visit http://www.nemet.com/queens-nissan or call Nemet Nissan at 800-981-9386.
Nemet Motors dealer Nemet Nissan, family owned and operated since 1916, will always sell its customers the cars they want to buy, not the car someone wants to sell them. Nemet Nissan pre-owned vehicles carry the balance of the manufacturer's original new car warranty exactly as originally written. Nemet Nissan is the customer's preferred choice for all of their Nissan new and pre-owned vehicle purchases, parts and services, and exclusive financing options. Nemet Nissan is conveniently located at 153-12 Hillside Avenue, Jamaica, NY 11432.
PR Company: Nexteppe (http://www.nexteppe.com):
Nexteppe provides dealerships with a dedicated support team and a full suite of all-in-one products including InControlPro, Comment Builder and ProSHOTS. Take your dealership inventory marketing and management to the next level with Nexteppe. Learn more about how we can enhance your website's design and enhance your inventory marketing and management by visiting us on the web or calling our New York office at 888-572-8892.