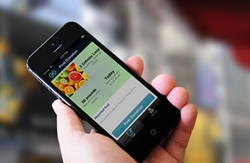 "Having access to our next meal is something that many of us take for granted and it is a pleasure to know we are making this come true for many Americans who do not always have that luxury" - Devin Lee, interim CEO of NeoSpeech
Santa Clara, California (PRWEB) August 17, 2015
1 in 6 Americans do not know where their next meal is going to come from. Meanwhile, there are many companies who provide meals to their employees, a lot of which are not eaten and go to waste.
The solution? Feeding Forward picks up the excess food and with the help of NeoSpeech, provides it to shelters throughout the Bay Area. NeoSpeech's speech technology enables Feeding Forward to call numerous recipient organizations or shelters at a time, using dynamic TTS to develop personalized phone calls that inform each shelter of exactly what food and how much food is available.
NeoSpeech Inc. specializes in providing high quality Text-to-Speech solutions for a range of applications, from CTI (Computer Telephony Integration) and IVR (Interactive Voice Response) systems to e-learning platforms and more. Now, their Text-to-Speech (TTS) software is being used to help provide meals to people throughout the Bay Area.
Feeding Forward is a non-profit that does exactly what the name suggests – they take excess food from businesses and ensure it gets to the hungry mouths of those who need it. All you have to do is sign up and tell Feeding Forward that you have food available and they will pick it up and deliver it to a nearby shelter. This reduces waste and hunger, solving multiple problems at once with the use of an easy mobile app.
NeoSpeech provides Text-to-Speech functionality to make Feeding Forward's job easier, faster and scalable. Prior to their partnership, Feeding Forward had to call every shelter individually to announce that they had food available. Now, they can inform multiple shelters at once using high quality, dynamic text-to-speech solutions from NeoSpeech.
NeoSpeech's Text-to-Speech has helped Feeding Forward not only increase efficiency and ensure their employees do not have to spend the entire day on the phone, but it also allows Feeding Forward to scale their operations well beyond the capacity of their office staff.
"NeoSpeech is an integral part of our operations" says Reece Soltani, the Director for Strategic Initiatives at Feeding Forward. "Their software has allowed us to keep up with demand efficiently, expand beyond our staffing capacity through their language options to serve more communities in need, and engage our various stakeholders professionally."
Devin Lee, the interim CEO of NeoSpeech Inc., is excited to be partnering with Feeding Forward. "NeoSpeech is proud to be helping Feeding Forward achieve their goals and feeding the hungry people of the Bay Area. Having access to our next meal is something that many of us take for granted and it is a pleasure to know we are making this come true for many Americans who do not always have that luxury" he says.
About NeoSpeech
NeoSpeech Inc. specializes in high quality text-to-speech solutions for a range of embedded, mobile, desktop and server applications. With over 30 voices in 7 different languages, including English (US and UK), Candia French, Mexican Spanish, Korean, Japanese and Chinese, NeoSpeech's voices are ideal for use in CTI and IVR systems, e-learning platforms and more.
To learn more about NeoSpeech's Text to Speech products visit http://www.neospeech.com/products. If you have any questions or comments, please feel free to email NeoSpeech.
Keep up to date with TTS technology advancements and applications by following NeoSpeech's blog at blog.neospeech.com or follow them on Facebook at http://www.facebook.com/NeoSpeechTTS and Twitter at http://www.twitter.com/NeoSpeech.
About Feeding Forward
Feeding Forward enables businesses to save money by recovering their excess food to feed communities in need, instantly. Our technology streamlines the process of food recovery and donation by connecting businesses with nonprofits with a tap of a finger. Think of us as the 'Uber for food recovery and distribution.'