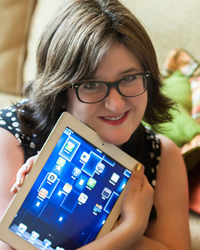 Winning this honor just goes to show you that being a nerd is finally in fashion.
San Diego, CA (PRWEB) March 19, 2014
According to Meetings & Conventions magazine, Your Nerdy Best Friend (TM), also known as author Beth Ziesenis, is one of the 2014 favorite speakers.
The March 2014 Meetings & Conventions magazine research poll asked meeting professionals "Who is the single best speaker you have heard in the past two years?" The results are a list of the best of the best professional speakers, and Your Nerdy Best Friend made the list as a favorite technology speaker.
"Because I speak about free and bargain tech tools and apps, I think this recognition is more about people's need for easy tech answers and fun tips," Ziesenis said. "Winning this honor just goes to show you that being a nerd is finally in fashion."
Ziesenis shares the honor with renowned speakers such as Bill Clinton, author Malcolm Gladwell, actor William Shatner and Olympic gold medalist Apollo Ohno. The award-winning Meetings & Conventions magazine, established in 1965, provides education and news to meeting and event planners in all industries.
This is the third time in two years that Ziesenis has been honored to be listed on a "best of" compilation of popular speakers. She was selected for the "Editors Picks: Favorite Speakers of 2013" by MeetingsNet.com. She was also named to a list of best speakers by the American Chamber of Commerce Executives last year, and her second book, Release Your Inner Nerd: Tech Tools and Apps to Get Organized, Get Creative and Get Ahead, was mentioned as one of the best business books for chamber of commerce executives.
About Beth Ziesenis, Your Nerdy Best Friend
Beth Ziesenis is an author, speaker and nerd. Since her first Commodore 64 computer, Ziesenis has been fascinated with technology and computer shortcuts that make people's lives easier. From her home base in sunny San Diego, California, Ziesenis helps computer users all over the country filter through thousands of apps, gadgets, widgets and doodads to find the perfect free and bargain technology tools for business and personal use through presentations.
Ziesenis speaks to 60+ organizations a year, including American Society of Association Executives, American Academy of Family Physicians, Hyatt Hotels Corporation, National Association of REALTORS® and many more. She can be reached at http://www.YourNerdyBestFriend.com.