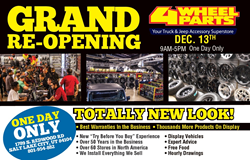 Our Salt Lake City customers are loyal to local businesses, and love to buy locally.
Compton, California (PRWEB) December 11, 2014
Industry-leading provider of aftermarket parts and accessories for trucks and Jeeps, 4 Wheel Parts, will stage a grand reopening celebration this Saturday, December 13 at its Salt Lake City, Utah location. The newly remodeled store is having a one day event that will feature a chance to win a $1,000 shopping spree for off-road products for trucks, Jeeps and SUVs. The reopened location joins 4 Wheel Parts' fleet of 66 stores throughout North America.
The one-day-only event will feature appearances and vehicle displays by Utah-based manufacturers and attendees get a glimpse of the latest Jeep and truck accessories. The celebration at 1789 S. Redwood Rd. in Salt Lake City begins at 9 a.m. and goes until 5 p.m. There will be installation discounts, hourly drawings and free barbecue, with the first 100 people entering receiving a 4 Wheel Parts t-shirt. Smittybilt XRC Gen2 9500 winches will be significantly discounted and a set of four Deegan 38™ LTR tires, ranging up to 35 inches, will be given away by Mickey Thompson.
The revamped store is receiving rave reviews from visitors. "When you're helping a customer, you lose their attention for a minute because they want to look around and check out the store," says Salt Lake City 4 Wheel Parts store manager Cole Duffey. "Our new store has a more modern look, with exposed air conditioning, and it's easy to find everything because it's so well laid out."
Miller Motorsports Park, located in nearby Tooele, Utah, will participate in the festivities along with its Ford Racing School Raptor Assault driving program. Rockslide, Superchips, Corbeau Seats and Tough Country are among the Utah-based manufacturers and vendors that will display products and vehicles. "Our Salt Lake City customers are loyal to local businesses, and love to buy locally," Duffey explains.
The Utah 4 Wheel Drive Association (U4WDA) is also slated to appear. The overseeing body of community 4x4 clubs and non-profits, U4WDA will educate enthusiasts about local clubs and how they can take part in club activities.
Postcards are being delivered to local Utah off-roaders for a chance to win a 4 Wheel Parts $1,000 shopping spree. The prize will be awarded if the postcard holder's number matches up with the number revealed at this Saturday's celebration. On-air spots for the event are airing on the Zone Sports Network and a live remote is scheduled to promote the Grand Reopening Celebration.
About 4 Wheel Parts: 4 Wheel Parts is a retailer and service provider focusing on aftermarket off-road parts for 4x4 enthusiasts. With 66 locations throughout North America, 4 Wheel Parts complements its retail centers with a robust mail-order and e-commerce distribution network to serve customers around the country and worldwide. 4 Wheel Parts stocks an extensive inventory of truck and Jeep parts, including nerf bars, tires and ATV accessories. The toll-free order number is 877-474-4821.