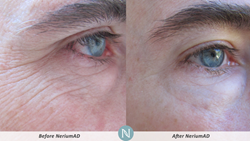 Nerium makes me excited to see my reflection instead of avoiding it. Looking in the mirror was the last thing I used to do and now it's the first thing; I'm smiling! – Tonia S.
Aliso Viejo, CA (PRWEB) July 17, 2014
Having younger and healthier looking skin easily, naturally, without multiple steps or products might sound like a science fiction movie. Yet this is exactly what Younger Skin Formula is doing.
By employing the age-defying cream NeriumAD ® and other breakthrough products from Nerium International™, Younger Skin Formula is helping scores of people all over the US and Canada dramatically improve the appearance of aging skin, cellulite and dimpling. They are also helping financially reward those who decide to share their results with other people.
Nerium International™ and its products have received raving reviews from various prominent media outlets like CBS News, The Doctors, Beautiful You magazine, Success From Home magazine, LA Times, Examiner and others.
The major difference between Younger Skin Formula and others who are promoting Nerium products is the focus on each individual's needs and the unparalleled business leadership that they offer.
"Some people come to us only wanting better skin, while others want to become brand partners and capitalize financially on this discovery. We cater to both. But where we really shine is our ability to properly educate people on how this works, and our proven leadership and training to help them build a successful business," the owner of Younger Skin Formula, John, commented.
Nerium International™, a direct selling company, is the only company with global exclusive rights to distribute the skincare products based on a breakthrough discovery in anti-aging science, including NeriumAD®, through a network of brand partners.
This age-defying treatment dramatically reduces the appearance of fine lines, wrinkles, uneven skin texture, discoloration, enlarged pores, aging and loose skin.
Anti-aging is an $80 billion industry in the US alone and growing. Direct selling companies were responsible for moving over $125 billion dollars worth of goods and services globally only a few years ago and that is expanding too.
The company recommends that anyone who is looking to supplement a personal or business income, part time or full time, to take a serious look at this.
What most people like about working with Younger Skin Formula is that they offer a very personalized service, helping them get the most out of the Nerium products and significantly increasing their chances of building a successful business.
This is because one of the goals that Younger Skin Formula has is to help people have a great product experience, make the business research process easier, and educate people about the costly mistakes that others have made in regards to this business and how to avoid them.
"What 99.99% of other Nerium reviews don't share with you is that there are 3 major mistakes that most people make when they decide to become a brand partner," said John.
"… the most common is when a person joins with someone who has no proven experience in being successful in this type of business before. What usually happens is both partners give up, wasting time, money and effort," John added.
Younger Skin Formula also has experience in working with a wide range of people between the ages of 17 to 75 years old, men and women, experienced or non-experienced, and employees or business owners, particularly spas, hair salons, estheticians, and other skincare experts.
Younger Skin Formula is offering a no-charge 20 minute 1-on-1 phone consultation. If you are interested in having younger looking skin and/or looking to supplement your income, it is highly recommended to connect with them directly.
To set up your personal appointment, call 949-391-7322 or visit YoungerSkinFormula.com for more information.