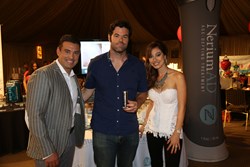 The best thing is that it's one product that addresses multiple concerns.
Los Angeles, CA (PRWEB) September 17, 2013
On Saturday, September 14, Nerium International™ was a proud sponsor of Secret Room Events' annual Red Carpet Style Lounge in Los Angeles, a style lounge honoring the nominees of the 65th Annual Emmys. During the lavish invite-only event, celebrities including Sofia Milos ("CSI: Miami"), Patrick Kilpatrick ("Minority Report"), Constance Zimmer ("Entourage", "House of Cards", "The Newsroom"), Christina Robinson ("Dexter"), and Michael Madsen ("Reservoir Dogs") learned about the benefits of NeriumAD Age-Defying Treatment® and its exclusive, patented NAE-8 extract.
Honoring the 65th Primetime Emmys, the Red Carpet Style Lounge benefited the Children's Hospital Los Angeles. Secret Room Events produces exclusive swag bags, award show gift lounges, and private events for Hollywood's most influential people. Their gift lounge was voted Best Gift Suite by The Huffington Post and was the only gift lounge chosen to be featured in a full page spread in OK! Magazine.
Attendees were greeted by representatives of Nerium International and educated on the patented NAE-8 extract derived from the Nerium oleander plant and multiple skincare concerns that the cream addresses such as the appearance of fine lines, wrinkles, discoloration, enlarged pores, and uneven skin texture.
Attendees lavished praise on NeriumAD, saying things such as: "The best thing is that it's one product that addresses multiple concerns." "It's such a time saver to not have to have a system. I work all day long on set shooting, so simple = timesaver." "I'm blown away by the before and after photos - 30 days or less!"
Nerium's Directors of Field Operations and Gold International Marketing Directors, Mark and Tammy Smith, were on hand at the gifting suite. Said Mark, "I'm excited that we are natural, GMO free, paraben free, and cruelty free --- celebrities care about quality products that are natural, and it's wonderful to represent such a first-class product at such a first-class event."
Formulated after more than ten years of scientific research and clinical testing by scientists and medical professionals, NeriumAD is a night cream that addresses multiple skincare concerns at once, including the appearance of fine lines, wrinkles, discoloration, enlarged pores, aging skin, and uneven skin texture. The NAE-8 extract is a proprietary extract, derived by combining the best of both the Nerium oleander and Aloe barbadensis plants, and has been shown to have powerful antioxidant properties. Both plants have age-defying properties on their own, and combined they work to amplify the proprietary protein blend that helps the skin appear youthful and tight. The NAE-8 extract, with its powerful antioxidant properties, is exclusive to NeriumAD, which sets this product apart from others on the marketplace.
Both the safety and efficacy of NAE-8 extract has been tested, documented, and confirmed throughout every phase of product development and testing. Third-party research firm ST&T Research also performed five years of clinical trials on the safety and efficacy of NeriumAD. Using advanced facial scanning, their clinical trials showed a 30% average reduction in the appearance of fine lines, wrinkles, and discoloration over 30 days. They also completed extensive safety testing and analysis.
For more information, click here. To order, please click here.
About Nerium International:
Nerium International, LLC, headquartered in Addison, Texas, markets breakthrough products validated by science. In 2011, the relationship marketing company partnered with Nerium SkinCare™ Inc. (a subsidiary of Nerium Biotechnology, Inc.®), to deliver the NeriumAD™ skincare line. These first-of-their-kind products, which are clinically proven to reduce the appearance of multiple skin concerns at once, are the result of cutting-edge research on the Nerium oleander plant and its age-defying results when applied to the skin. Led by an executive team with more than 150 years of collective experience, Nerium International is committed to developing and distributing skincare products that are rooted in real science and produce real results that improve consumers' lives. For more information, please visit http://www.mynerium.com.
About Secret Room Events:
Secret Room Events produces exclusive gift lounges and gift bags surrounding major awards shows. Secret Room Events also produces product launch events and offers celebrity product placement opportunities. Secret Room Events has been featured on "Access Hollywood", "The Insider", "Entertainment Tonight", OK! Magazine, Us Weekly, and more.