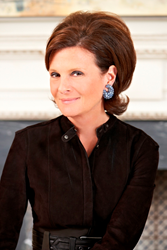 The opening of our first shop-in-shop at Neiman Marcus is a significant step in our strategy to build NEST Fragrances into a global luxury lifestyle fragrance brand
New York, NY (PRWEB) October 16, 2014
NEST Fragrances ("NEST" or the "Company"), a leading designer and manufacturer of luxury scented products for the bath, body and home, today announced the launch of its first shop-in-shop location at Neiman Marcus, NorthPark Center, in Dallas. A reception to commemorate the opening will be held Saturday, October 18, from 2-4 p.m., at the NorthPark Center store.
"The opening of our first shop-in-shop at Neiman Marcus is a significant step in our strategy to build NEST Fragrances into a global luxury lifestyle fragrance brand," said Laura Slatkin, Founder and CEO of NEST Fragrances, who will be in attendance at Saturday's reception in Dallas. "Neiman Marcus originally launched the NEST Fragrances brand in 2008 and they have continued to play an integral role in our company's growth and success ever since. This is the first location to carry our entire repertoire of home- and fine-fragrance products, and we are extremely thankful to Neiman Marcus for being such a tremendously supportive partner."
The NEST Fragrances core collection of luxury home-fragrance products includes scented candles (three sizes), reed diffusers, liquid soap and hand lotion in 12 fragrances, as well as 77-ounce "Grand" candles in three top-selling scents. The Company's fine-fragrance collection boasts seven fragrances that are each available in a 1.7 Fl. Oz. (50mL) eau de parfum spray and a 0.27 Fl. Oz. (8mL) roller ball, with three fragrances available in a 3.4 Fl. Oz. (100mL) eau de parfum spray and five fragrances available in a 6.7 Fl. Oz. (200mL) luxe body cream. NEST also manufactures several seasonal and holiday home-fragrance collections in addition to gift sets and candle accessories.
The Company supports the following charitable organizations through cause marketing initiatives: Autism Speaks, The Breast Cancer Research Foundation and the Elton John AIDS Foundation.
Neiman Marcus NorthPark Center is located at 8687 North Central Expressway, Suite 400, in Dallas. The store can be reached by phone at (800) 756-5784.
To learn more about NEST Fragrances, visit our Web site at http://www.nestfragrances.com, follow us on Instagram, Twitter and Pinterest (@NESTFragrances), or like us on Facebook at facebook.com/NESTFragrances.
About NEST Fragrances
Founded by renowned fragrance expert Laura Slatkin, NEST Fragrances ("NEST" or the "Company") is a leading lifestyle fragrance brand that designs and manufactures a wide assortment of luxury scented products for the bath, body and home. Featuring a variety of exceptional personal care, home fragrance and fine fragrance collections, NEST combines chic packaging with exquisite fragrances specifically designed to enhance one's everyday living and entertaining experience. Well-known for her impeccable sense of style, Laura Slatkin created NEST for those who aspire to enrich their lives and environments with the essences of luxury, sophistication and beauty through fragrance. NEST products are sold at luxury specialty department stores and through a wholesale customer network of more than 1,200 boutique stores across the U.S. For more information, visit http://www.nestfragrances.com.