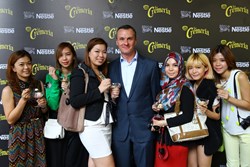 Petaling Jaya, Selangor (PRWEB) August 27, 2013
Nestlé Products will be re-launching LA CREMERIA 1.2L tub range on September 1, 2013 introducing the total range with an improved recipe and better packaging.
LA CREMERIA recognizes and understands that today's young and hardworking discerning individuals deserve to satisfy their sweet cravings and LA CREMERIA is the perfect way to indulge in delicious and satisfying ice cream at home as a reward after their fast-paced daily activities.
The improved range now comes with creamier texture that melts smoothly and gives a satisfying moment of indulgence.
The range comes with an improved packaging with stronger and tighter tub cap lock to ensure product freshness.The tub range comes in six interesting variants that offer different sensations and eating experiences to consumers. The ranges are:
1. LA CREMERIA Almond Pecan Praline: Delicious pecan flavoured ice cream with almond chunks and velvety swirls of chocolate sauce
2. LA CREMERIA Vanilla Cashew Delight: Vanilla ice cream with generous chocolate chips, cashew nuts, and velvety chocolate sauce
3. LA CREMERIA Chocolate Obsession: Chocolate ice cream with chocolate chips and chocolate sauce
4. LA CREMERIA Chocolate Hazelnut Temptation: Vanilla and Chocolate ice cream with heaps of peanuts and velvety chocolate hazelnut sauce
5. LA CREMERIA Hazelnut Ganache Sensation: Crème Brulee flavoured ice cream with almond chunks and chocolate chips swirled in chocolate hazelnut sauce
6. LA CREMERIA Strawberry Dream: Vanilla and Strawberry ice cream with lots of strawberry pieces
Whether consumed alone while watching a movie or served while entertaining house guests, LA CREMERIA with its smooth texture and rich creamy taste, is created to satisfy sweet cravings. LA CREMERIA 1.2L range is available at a recommended price of RM16.89 (West Malaysia) and RM16.99 (East Malaysia) at major hypermarkets and supermarkets nationwide.
LA CREMERIA is also available for on the go consumption that is from the top two bestselling variants in 100ml serving cup. LA CREMERIA Almond Pecan Praline and LA CREMERIA Vanilla Cashew Delight are currently sold at retail prices of RM3.00 (West Malaysia) and RM3.20 (East Malaysia) and available at selected convenient stores nationwide.
In conjunction with the re-launch, several road shows will be held around Malaysia from September to November 2013 to give consumers the opportunity to experience this indulging and satisfying LA CREMERIA range. The road shows give consumers a chance to win some goodies and enjoy exciting activities at the booth. To find out more about the road shows, venue details are available at Event Calendar which will be updated on a weekly basis at http://www.facebook.com/NestleLaCremeria.
LA CREMERIA is one of the participating Brands in the NESTLÉ Bonanza Hari Keluarga Malaysia Contest. Consumer may use the lid of the LA CREMERIA 1.2L or LA CREMERIA 100ml as the point-of-purchase to enter the contest.
For more information on LA CREMERIA products, activities and contest, please call Nestlé at 1-800-88-3433 between 9am and 5pm from Mondays to Fridays.