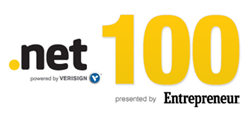 'We have revolutionized the way marketers find consumers on Twitter,' says Adam Root, HipLogiq co-founder and CTO.
Dallas, TX (PRWEB) January 23, 2014
Dallas-based HipLogiq's social media marketing application SocialCompass.net found its way into the .Net100 list compiled by Entrepreneur and Verisign, ranked at 60. SocialCompass.net has been on the market for 15 months. Inclusion in the list is based on feedback from business owners, and traffic and social metrics for each site. The entire list and methodology can be viewed at entrepreneur.com.
According to the site, "The .Net100 list is a representative of the best of the best of the web – music sites, gaming communities, news and entertainment, and community tools for developers, programmers and businesses."
"We have revolutionized the way marketers find consumers on Twitter," says Adam Root, HipLogiq co-founder and CTO. "Our filtering methods find Tweets that signal buying behavior from consumers. These filtering methods are constantly redefined every time marketers use the platform resulting in extremely high conversion rates."
SocialCompass finds potential new customers on Twitter for brands like Papa John's and Dunkin' Donuts. Its white label service lets agencies rebrand the application and resell it as their own solution for their clients. SocialCompass uses keywords, geotracking and machine learning to comb hundreds of millions of tweets and flag conversations looking for a particular product or service. A relevant tweet is flagged in real time so the business can respond directly with a discounted offer. SocialCompass boasts a 34 percent conversion rate, based on the number of times an offer is downloaded. But some companies enjoy an even higher rate. A Papa John's franchise in Houston, for example, sees a nearly 60 percent rate. Compare that to a traditional direct mail success rate of 1-3 percent.
About HipLogiq
HipLogiq began in October 2012 as Social Compass, an enterprise solution for social media marketing, now with a white label solution for companies and agencies that want to brand the tool. Co-founders Lindsey Madison, Adam Root and Bernard Perrine designed the patented technology to help companies target and engage customers over social media in a meaningful, results-driven way. To date, the technology boasts an unprecedented conversion rate of 34 percent or higher.
SocialCentiv – launched in March 2013 – works similarly for small businesses, but with a web-based, do-it-yourself solution. During the design of SocialCentiv, leadership decided it was time to evolve the company into an idea factory that produces the most innovative, successful applications in their market space. As a result, HipLogiq also launched in March 2013 and has received $12M in two rounds of funding since May. For more information, go to hiplogiq.com or visit them on Facebook or Twitter.