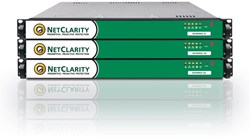 Bedford, MA and Gibbsboro, NJ (PRWEB) August 22, 2013
NetClarity, Inc., the leading provider of plug-'n-play Network Access Control (NAC) solutions for mid-market businesses, today announced that they have signed an agreement with Praxis Data Systems, Inc. to resell their award-winning NACwall security appliances. This partnership gives Praxis Data Systems, Inc.' customers access to NetClarity's holistic internal security solutions, the NACwall family of appliances, to effectively protect businesses from internal attacks on networks containing from 10 to 25,000 devices.
NetClarity's plug-'n-play Network Access Control (NAC) appliances help mid-sized businesses identify and control all of the devices that have access, or are trying to gain access, to the network. The process of allowing and blocking devices onto the network is simplified by an easy deployment, agentless and non-inline technology, and automatic vulnerability scanning of devices that are attempting to access the network. For more information on NetClarity's plug-'n-play solutions, read this NAC Executive Summary: http://blog.netclarity.net/discover-the-worlds-only-plug-n-play-nac-solution
"As regional IT partner to community banks, credit unions and insurance companies, Praxis Data Systems continually seeks to provide affordable, enterprise-class security and compliance solutions like NetClarity to protect our clients' data and their customers' information," says Harry Srolovitz, CEO of Praxis Data Systems, Inc.
Implementing NetClarity's plug-'n-play Network Access Control (NAC) solutions through Praxis Data Systems, Inc. offers the following benefits:

Professional on-site Sales and Engineering support
Lowest initial investment costs for NAC equipment in the industry
Secure control of all appliances through a built-in Command Center that is included with all Enterprise units at no extra charge
Ability to deploy internal network security solutions in less than an hour, per site
Interoperability on all existing networking environments, devices, and operating systems
The most powerful security model for managing internal risk and regulatory compliance
"NetClarity is very excited about the addition of Praxis Data Systems, Inc. to our channel partner program," said Hal Charnley, CEO & President of NetClarity. "Praxis Data Systems, Inc. will play a key role in NetClarity's ongoing expansion in the Philadelphia Tri-state area and we are very pleased that they have chosen to add NetClarity to their portfolio of solutions."
About NetClarity, Inc.
NetClarity is privately-held and is the leading provider of plug-'n-play Network Access Control (NAC) solutions today, serving mid-sized businesses. Our passion to deliver the world's easiest-to use, fastest, most powerful, and cost effective NAC technology, which in turn fuels our growth through strong market demand. NetClarity's NACwall appliances, leveraging the company's groundbreaking and patented Inside-Out Network Security™ technology, provide the most proactive approach to internal intrusion defense in the entire industry. NetClarity is headquartered in Bedford, MA with offices and partners throughout the world. For more information, visit: http://www.netclarity.net.
About Praxis Data Systems, Inc.
Praxis Data Systems has been delivering professional Technology solutions to businesses and Financial Institutions in the South Jersey/Philadelphia region for 26 years. Through our exclusive NetCare Technology Program, Praxis offers a full range of Managed IT solutions and services to our clients on a fixed monthly fee basis allowing businesses to preserve their capital and minimize their ongoing technology expenses.
Contacts
NetClarity, Inc.: Cherie LaFlamme, Marketing Director, claflamme(at)netclarity(dot)net Toll Free: 1-800-874-2133 x2038 or 781-791-9497 Ext. 2038
Praxis Data Systems, Inc.: Kim Martucci, Sales and Marketing Coordinator, kimm(at)praxisnet(dot)com Phone: 856-679-2256