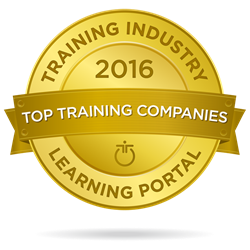 Learning portals provide the ability to deliver an exciting and compelling learning experience and more, by consolidating and streamlining the learning activities that are critical to business success." -Peter Barrett, President, NA, NetDimensions
Rocky Hill, CT, USA (PRWEB) August 23, 2016
NetDimensions has been named among the Top 20 Learning Portal Companies by TrainingIndustry.com for the seventh year in a row.
"Learning portals are critical to the success of most training programs as they are often the initial point of interaction the learner has with the materials for a given course," said Doug Harward, CEO, Training Industry, Inc.
"The 2016 Top Learning Portal Companies show they understand how important these touches are to the success of your program, while still providing you with the administrative layer required to track and measure your organization's learning initiatives."
Engaging employees, customers and partners is a challenge for organizations today. Learners need a personalized and compelling learning experience that is customized to their needs and expectations.
Peter Barrett, President for North America at NetDimensions noted, "Today's employees are experiencing information overload. It is important for organizations to provide clarity and context when delivering training to their staff. Learning portals provide the ability to deliver an exciting and compelling learning experience and more, by consolidating and streamlining the learning activities that are critical to business success."
NetDimensions SDK, which enables seamless integration between learning portals and NetDimensions Talent Suite, gives companies in highly regulated industries the flexibility to present L&D and training programs in an environment that is more familiar and customized for their target audience.
"We are very pleased to receive this recognition from Training Industry for the past seven years. NetDimensions' Portal Development Team continuously improves its skills and knowledge in developing learning portals, using the latest strategies for user engagement including gamification, social collaboration and analytics," added Barrett.
About Training Industry, Inc.
TrainingIndustry.com spotlights the latest news, articles, case studies and best practices within the training industry. The company publishes the annual Training Industry Top 20 and Training Industry Watch List reports covering many sectors of interest to the corporate training function. Our focus is on helping dedicated businesses and training professionals get the information, insight and tools needed to more effectively manage the business of learning.
About NetDimensions
Established in 1999, NetDimensions (AIM: NETD; OTCQX: NETDY) is a global provider of performance, knowledge and learning management solutions to high consequence industries.
NetDimensions provides companies, government agencies and other organizations with talent management solutions to personalize learning, share knowledge, enhance performance, foster collaboration and manage compliance programs for employees, customers, partners and suppliers.
Recognized as one of the talent management industry's top-rated technology suppliers, NetDimensions' award-winning solutions have been chosen by leading organizations worldwide including ING, Cathay Pacific, Chicago Police Department, Geely Automotive, Fugro Group, and Fresenius Medical Care.
NetDimensions is ISO 9001 certified and NetDimensions hosted services are ISO 27001 certified.
For more information, visit http://www.NetDimensions.com or follow @netdimensions on Twitter.