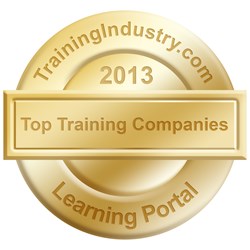 NetDimensions SDK provides a key differentiator for our clients that can create personalized portals to target specific user groups, use cases, or both. - Alex Poulos, CMO, NetDimensions
(PRWEB UK) 11 October 2013
NetDimensions (AIM: NETD; OTCQX: NETDY), a global provider of performance, knowledge, and learning management systems, has once again been named among the Top 20 Learning Portal Companies by TrainingIndustry.com.
"We are very honored to receive this recognition for the fourth year in a row," noted Alex Poulos, Chief Marketing Officer, NetDimensions.
Designed to enable seamless exchange of data between the NetDimensions Talent Suite and external applications (such as social platforms and HR systems) or mobile devices (such as smartphone or tablets), NetDimensions SDK enables the integration of various functionalities of the NetDimensions Talent Suite within any portal or website.
"NetDimensions SDK provides a key differentiator for our clients that can create personalized portals to target specific user groups, use cases, or both," added Poulos.
Enabling Community & Patient Education Initiatives
"Through the NetDimensions SDK, our clients in the hospital sector can easily manage and deliver patient and community education, as well as distribute news, knowledge materials or eLearning documents," explained Ken Wright, President, NetDimensions Healthcare.
Personalizing the Learning Experience
The NetDimensions SDK makes it easy for organizations to build custom portals tailored to their specific needs and able to offer a personalized experience to their learners. This applies to both eLearning and mobile learning environments. Enrollment and payment for classroom sessions can also be handled via the system's eCommerce functionality.
Supporting Engagement and Easy Access to Content
"Our Top 20 Learning Portal Companies list represents the companies that support the administration and delivery of learning content. These innovative companies integrate an array of technologies into their portals to support engagement, and bring a deep set of industry experience," said Ken Taylor, Chief Operating Officer of Training Industry, Inc.
"These companies use a variety of strategies to ensure content is easily accessible to the learner. There is also a strong focus on improving the ease of use through simple, innovative platforms and interfaces," added Doug Harward, Chief Executive Officer of Training Industry, Inc.
---
About NetDimensions
Established in 1999, NetDimensions (AIM: NETD; OTCQX: NETDY) is a global provider of performance, knowledge, and learning solutions.
NetDimensions provides companies, government agencies and other organizations with talent management solutions to personalize learning, share knowledge, enhance performance, foster collaboration, and manage compliance programs for employees, customers, partners and suppliers.
Recognized as one of the talent management industry's top-rated technology suppliers in overall customer satisfaction, NetDimensions has been chosen by leading organizations worldwide including ING, Cathay Pacific, Hunter Douglas, Chicago Police Department, Delphi Automotive, and Fresenius Medical Care.
NetDimensions is ISO 9001 certified and NetDimensions hosted services are ISO 27001 certified.