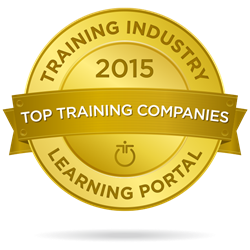 Rocky Hill, CT, USA (PRWEB UK) 27 August 2015
NetDimensions is once again named among TrainingIndustry.com's annual Top 20 Learning Portal Companies List.
"The companies selected have the platforms required not only to effectively deliver, curate and administer great programs, but also measure the impact of the training," said Ken Taylor, President of Training Industry, Inc.
For six consecutive years, NetDimensions has maintained its position on this Top 20 list. This is partly due to a commitment to the continuous development of NetDimensions SDK, which gives NetDimensions and its clients the ability to create learning and performance support portals and applications that integrate the learning and performance management functionality of NetDimensions Talent Suite.
"We firmly believe that learners should be able to focus on learning through the user or navigation experience and content that are suited to their needs and environment," noted Peter Barrett, NetDimensions President for North America. "The LMS platform or technology that supports and enables the learning should be secondary to that experience."
NetDimensions' talented and creative team of instructional designers, media developers, scriptwriters and programmers help clients create as many separate learning portals for different audiences as they need using the latest developments in user experience techniques.
"The learning target groups vary easily from staff training to customer, community, partner, distributor, and vendor education. We work closely with our clients to enable them to engage their learners by enriching individual experiences, motivating their staff, and achieving their business goals," added Barrett.
About Training Industry, Inc.
TrainingIndustry.com spotlights the latest news, articles, case studies and best practices within the training industry. Our focus is on helping dedicated businesses and training professionals get the information, insight and tools needed to more effectively manage the business of learning.
About NetDimensions
Established in 1999, NetDimensions (AIM: NETD; OTCQX: NETDY) is a global provider of performance, knowledge and learning management solutions to high consequence industries.
NetDimensions provides companies, government agencies and other organisations with talent management solutions to personalise learning, share knowledge, enhance performance, foster collaboration and manage compliance programmes for employees, customers, partners and suppliers.
Recognised as one of the talent management industry's top-rated technology suppliers, NetDimensions' award-winning solutions have been chosen by leading organisations worldwide including ING, Cathay Pacific, Nuffield Health, Chicago Police Department, Geely Automotive, Fugro Group, Fresenius Medical Care, tesa SE, and DB Schenker.
NetDimensions is ISO 9001 certified and NetDimensions hosted services are ISO 27001 certified.
For more information, visit http://www.netdimensions.com/uk or follow @netdimensions on Twitter.